These eyeliners are perfect for anyone working to live a cruelty free life. They provide definition, last a long time and are smudge free without being tested on animals or containing any harsh or damaging ingredients.
#1
Thrive Causemetics Infinity Waterproof Eyeliner
This waterproof, smudge-proof eyeliner powered by Semi-Permanent Micropigment Technology™ glides on smoothly to deliver highly pigmented color that brightens, defines and sets in 30 seconds. Our proprietary formula is packed with shea butter, hyaluronic acid and ceramides for younger-looking lids and strong, conditioned lashes. The twist-up pencil includes a built-in sharpener for creating ultra-fine lines and an ergonomically angled smudge tip for smooth, effortless blending.
#2
Anastasia Beverly Hills Liquid Liner
Anastasia Beverly Hills Liquid Liner is a waterproof, highly pigmented, true-black matte liquid eyeliner that glides on evenly and delivers precise lines with ease. Featuring a soft felt-tip precision applicator, this liner lets you flawlessly create any eye makeup look you desire—from sharp thin lines to dramatic bold lines without skipping or running.
#3
Covergirl Get In Line Active Eyeliner
This liquid eyeliner was formulated to be worn during intense days and works outs. It is sweat proof, does not smudge or flake, and glides smoothly across the eyelid.
#4
C'Est Moi Fearless Eyeliner Pencil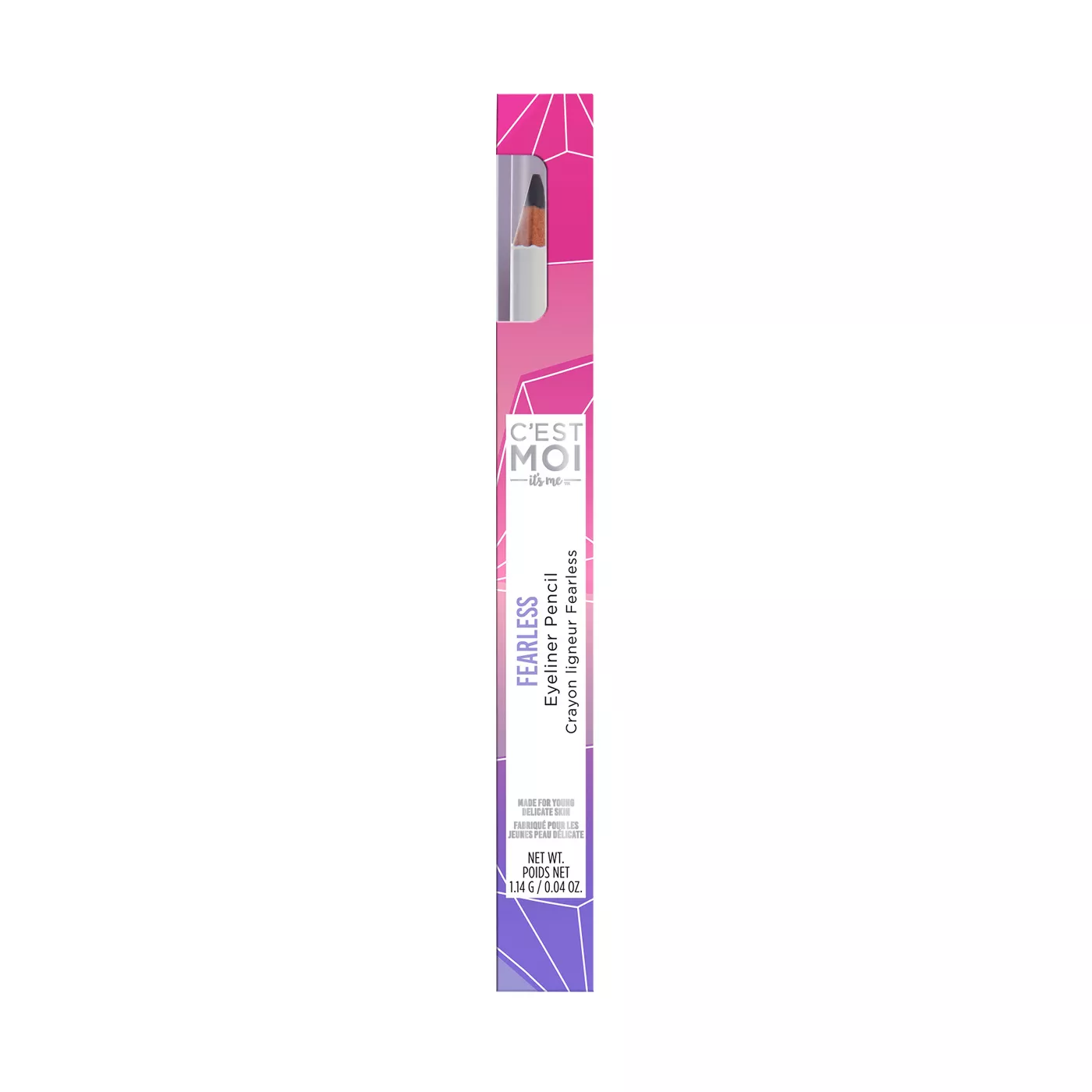 Make your eyes pop with this sleek, easy-to-use black eyeliner. Formulated with both jojoba seed oil and shea butter, its velvety smooth formula glides on effortlessly and precisely. To sharpen, place inside sharpener and turn the pencil gently to create a working tip.
CLEAN BEAUTY – All C'et Moi products are made with clean ingredients, never tested on animals and are EWG Verified (Environmental Working Group). All packaging materials are recyclable and have been made of elements that have been thoughtfully sourced for this purpose.
THOROUGHLY TESTED – Our products are dermatologist tested as well as clinically tested on sensitive skin. The hypoallergenic formulas are free of toxic components, like Talc, Fragrance, Parabens, Phthalates, Sulfates, Mineral Oil or Propylene Glycol.
#5
Tattoo Liner By Kat Von D
This brush-tip liquid eyeliner is the perfect choice for any budding vegan. Effortless and precise application has never been easier or smoother thanks to Kat Von D's innovative brush. Achieve high pigmentation and a lasting finish with this waterproof and fadeproof eyeliner.
#6
C'Est Moi Visionary Makeup Crayon
C'Est Moi Visionary Makeup Crayons are vibrantly hued makeup crayons that make it easy to infuse your look with a pop of color. Create a statement eye with a single swipe, or a unique design anywhere on your face — channel your inner visionary and get creative! Thanks to a wide range of versatile shades, there is almost no look you can't achieve.
C'Est Moi Visionary Makeup Crayons are hypo-allergenic, dermatologist tested, and free from Talc, fragrance, Parabens, Phthalates, Sulfates, and Minerals.
#7
Beauty Without Cruelty Super Soft Kohl Eye Pencil
Those looking for a certified vegan and cruelty free eyeliner needn't look any further than Beauty Without Cruelty's Super Soft Kohl pencil. Natural and long lasting, this mineral based pencil is easy to apply and smudgeable, making it perfect for creating a soft or smoky-eyed look. Colour intense, thanks to its combination of pure minerals and natural waxes, the Super Soft Kohl pencils come in five shades to suit all colourings and styles. Want beauty without cruelty? The name says it all!
#8
Beauty Without Cruelty Natural Mineral Eye Pencil Black
BWC's eyeliner pencils provide artistic definition and beautiful depth that lasts! Made without any animal ingredients and never tested on animals. Certified cruelty-free! Made with minerals and fine oils for smooth application.
While other cosmetic companies have jumped on the cruelty-free bandwagon, Beauty Without Cruelty began the cruelty-free cosmetics movement back in 1963! It is the original anti-cruelty cosmetics company. Beauty Without Cruelty is the maker of certified Vegan and cruelty-free beauty and personal care products. It is a proud member of the Coalition for Consumer Information onCosmetics (CCIC) for Cruelty-Free Products, bearing the Leaping Bunny logo, an internationally-recognized standard.
---
The recommendations of products and books within this article where sourced from industry experts. Their names and websites are listed below.
Who contributed to this article?