This article showcases our top picks for the 'Social Entrepreneurship Books For Local Change'. We reached out to industry leaders and experts who have contributed the suggestions within this article (they have been credited for their contributions below).
We are keen to hear your feedback on all of our content and our comment section is a moderated space to express your thoughts and feelings related (or not) to this article This list is in no particular order.
---
This product was recommended by Nicholas Prangnell from The Good Bamboo
An intern recommended this book to me and I'd love to share it with the world. Its core premise is to look at pirates – real pirates, from the 16th and 17th centuries – and analyze how they could so successfully operate at the margins of society before going on to transform society itself. Pirates are revealed to have been self-organizing agile teams, with equality, fairness and flat hierarchies. But the book's real value is in showing examples of this thinking in the modern world, and how protests, community groups and larger organizations can organize to create systemic change. It was a very inspiring book for me personally and it was why I went on to start my own company built around those same, positively-rebellious values.
---
This product was recommended by Steve Davis from UnderCurrentsBook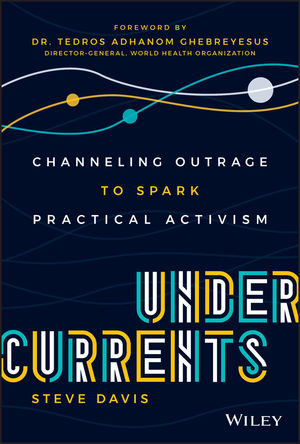 The book is about the practical ways Americans can channel current outrage about major issues into activism and real, systemic change. Undercurrents is filled with examples and highlights activists from Davis's forty years in the field of activism, showing readers specifically how they can get off the sidelines and get involved.
In a time of social isolation and political noise, Undercurrents offers answers to the looming question of how to ignite genuine change within a flawed system. In Davis's telling, practical activism is for all of us who want to make the world a better place—from neighbors down the street to corporate executives in glass towers. Steve Davis lectures at the Stanford Graduate School of Business and is a senior China strategy advisor and interim director for the China Country Office for the Gates Foundation. He serves as co-chair of the World Health Organization's Digital Health Technical Advisory Group and is a Distinguished Fellow, World Economic Forum. He is the former president & CEO of PATH, a leading global health innovation organization; former Director of Social Innovation at McKinsey & Company; and former CEO of Corbis.
---
This product was recommended by Sarah Solomon from Publify Relations
If you yearn to start a movement, to drive meaningful and lasting change, then "Find Your Fire" for you. Terri Brousard Williams long wished for a book like this. One with stories she could see herself in. One with both inspiration and no-nonsense advice. She could have found ideas in this book when she was a girl trying to figure out how she would follow her family's long tradition of giving back. She could have turned to it when she was a young TV producer learning to stand her ground with older colleagues, or when she needed a new plan after the U.S. Senate candidate she had been working for lost his race. She could have really used it when she was one of the few female lobbyists at the Louisiana State Capitol.
---
This product was recommended by Brack Nelson from Incrementors
Social Entrepreneurship is an outstanding primer in this exciting new area of business impacting social change. Bornstein and Davis provide detailed background and many lessons of how social enterprises have emerged from the conventional humanitarian model to that of a possible business model. One phrase that stood out for me personally comes at the end of the last chapter and reads "The more honest your intention, the more genuine your attachment to the work, the more effective you will be- and the more fulfilled." It requires great theoretical and hands-on advice for anyone interested in making a difference in the world as a social entrepreneur. I was also impressed with the overarching principles of change-makers and felt them applicable to other facets of life. This book is great for anyone who wants to learn about social entrepreneurship
---
This product was recommended by Ximena Hartsock from Phone2Action
In Trailblazer, Benioff argues that in today's world nobody can afford to sit on the sidelines and look the other way at social problems ­ that companies have a moral and economic responsibility to solve social problems and businesses are a platform for change. I 100% agree with this and know first hand that CEOs and founders have tremendous power and, while some use it for good, many others don't. Consumers sometimes find out and punish you, but too often businesses have the primary goal of making money at anyone's expense, when in truth they have the choice to make money and help solve our social problems.
---
This product was recommended by Vipin Chahal from Return Policy Guide
This book provides a good overview of the entrepreneurial process. Perhaps one of the most distinguishing architectural features of this text is that each chapter provides the nonprofit sector. This makes it valuable especially to readers who may want to become conversant about this topic.
---
This product was recommended by Vipin Chahal from Return Policy Guide
This book is for leaders. They are disruptors or changemakers or visionaries who venture onto developing, building, and scale their solutions in ways that bring about the truly revolutionary change that makes the world a fairer and better place. I would recommend this book for people looking for motivation to self inspire.
---
This product was recommended by Vipin Chahal from Return Policy Guide
It focuses on covering the emerging topics and subjects of lean start-up, supportive social ecosystems, social intrapreneurship coupled with social entrepreneurship and environmental sustainability in this field.