One of the great joys of summer for avid young readers is the opportunity to explore books all on their own! Tweens are ready for intriguing, original, and complex stories, which means that middle grade readers can find titles perfect for them in every genre. And with new titles coming out all the time — many of them starring Mighty Girl characters — there is an ever-growing selection of books to choose from!
Whether your tween is looking for an imaginative fantasy novel or a suspenseful mystery, a hilarious romp or a thrilling story of adventure, the empowering titles in our new blog post will keep her flipping through pages all summer long! Both classic novels and new releases are included, so you can encourage your tween to read a book you remember fondly from your own childhood, or help her discover a new favorite. With a wide range of diverse, courageous, and determined Mighty Girls at the center of the story, your young reader is sure to find a character she loves.
Why Empowering Books Are Beneficial For Kids?
Young readers will be captivated by books about Mighty Girls who are smart, courageous, loyal, creative, strong, and kind — characteristics that help girls build self-confidence. Encourage your tween to read about a variety of girls with different interests, backgrounds, and personalities, creating a community of diverse, multi-faceted characters to enjoy. The compelling stories in these empowering books will have your child turning the pages and begging for just one more chapter — and are guaranteed to become new favorites!
Whether your middle grade reader prefers a roller coaster ride of a book or a quieter, more introspective tale, there is a title on this list guaranteed to be a hit. So settle in at your favorite reading spot, and prepare to watch a new reader develop a soaring love of reading!
Why Empowering Books Are Important To Read?
Self-esteem is critical to the development of a young person, and reading is an important way to foster it. Show your child that she's your favorite by giving her a book in which she can come to know, and be inspired by, a character who has a similar personality or set of talents to her own.
Despite the preponderance of male characters in books and on television programs, young women are definitely ready to see themselves reflected in the stories they read. Recommended stories with roles for girls with diverse interests, talents, and personalities can help young readers realize that they can be whatever they want when they grow up! And even when a story features a male character, there are ways to make the central role in the book feel more inclusive for girls. In an exciting recent development, publishers are increasingly featuring Mighty Girl characters in powerful roles who can be the main focus of a book, without the central role being denominated as "boy."
In A Mighty Girl Top Ten Inspiring Books for Mighty Girls author Katy Moran discusses why empowering books are important:
"There's nothing more empowering than reading about and learning about smart, courageous, loyal, creative, strong, and kind girls who are determined to be heard and make a difference and do what they love. All of these words describe exactly what we need to be to grow up to be happy and fulfilled. So, not only do these books make us feel more confident and brave, but they give us a great role model to turn to when we need help."
What if your tween is not yet confident in her own talents and interests, and still trying to figure out who she is? Middle grade fiction offers a fantastic opportunity to help her develop those interests, and make her feel more confident in her own abilities. You can encourage your tween to read about a girl who loves the same things she does, or help her see that she isn't alone if she doesn't feel that way. Give her the chance to share her thoughts and feelings about the book with you, and encourage her to talk about what she has learned about herself.
Whether your tween is looking for a strong character to learn from this summer, or searching for the perfect book to recommend to a friend, empower your girl to read great books like the ones on the list below. Get ready, because your tween's self-confidence will blossom through reading!
How These Books Can Help Parents To Raise Their Kids?
One of the most important things you can do as a parent is to encourage your child to love reading. In order to keep her motivated to read, you can share your fond memories of favorite books from your childhood. Young girls who are passionate about reading tend to have higher self-esteem and better grades in school, along with the confidence needed to tackle new challenges.
Understand How You Can Empower Your 10 Years Old
By fulfilling their great potential, women and girls around the world directly build strong families, healthy communities, and thriving economies. This is because women often use their education and knowledge to fill a void in development gains. Not only are educated mothers likely to have healthier children, they are more likely to have fewer children, and invest more in caring for their health and education.
The different roles women play in society are generally not given the same value as the roles played by men. This directly and negatively impacts the income, nutrition, education, and longevity of women and their children. This inequality, in turn, leads to poor outcomes for women and their children, their families, and their communities.
Females are still underrepresented in political governance. They represent only 19.5% of parliamentarians globally and hold only 16.8% of ministerial positions worldwide.
Why Empowering Books For Young Girls Are Important?
Now, more than ever, it's important to raise your daughter to know she's capable of doing and achieving much more than you think, and that what you do is of equal value to anything a man can do. But not all role models are recognizable in popular media. A girl can have an iconic pop star or actress role model, be featured in the next big comic book movie franchise, and have a father who works out of state… Yet she may still not see herself in the stories, songs and movies she loves. And while it's terrific that a new generation of young women has role models like Katniss Everdeen and Rey to look up to, that's still only a small snapshot of the greater culture of what's possible for girls. A Mighty Girl fills the larger space with a large range of societal, professional, and personal role models.
---
This product was recommended by Snezhina Piskova from Clarity Wave
At age 10, children's imagination is at its peak. They are often asked "what do you want to become when you grow up?" and they give a wide range of amusing answers. Adults sometimes are quick to cut their wings down by telling them some of their future career plans are impractical or even impossible – because it's simply not realistic to be a pirate. Young girls are especially vulnerable to this realistic approach, as society still has certain expectations toward how they should fit into the community. This book breaks all these stereotypes apart and shows how colorful and diverse accomplishments can be, through the prism of established and notable women through history. It gathers 100 stories of remarkable women from past and present, and is beautifully illustrated by 60 female artists from across the world. The best thing? Little boys can also find it interesting, so that makes it a good empowerment tool for any gender.
---
This product was recommended by June Archer from IAmJuneArcher
Now more than ever, kids need and want the inspiration and motivation that Yes! You Can provides. In this book, young readers will learn about professions that make a difference as well as some that are fun and rewarding. Teaching them that dreams do come true and to believe in their dreams will help build the next generation of positive thinkers, leaders and entrepreneurs. These small affirmations and keys to success will allow them to be kids, find empowerment and encouragement to do what they love, believe in their dreams, and discover hope for a promising future.
---
This product was recommended by Kelley from She Plays We Win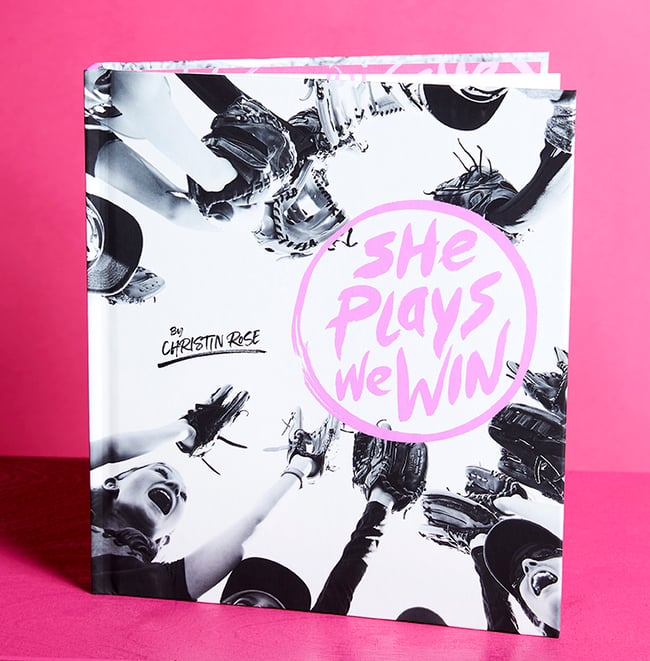 Four years in the making, "She Plays We Win" is a photography project and social movement by Christin Rose capturing the fearless spirit and confidence that sports instill in young female athletes. To continue this vision, 100% of book sale proceeds will go to the Women's Sports Foundation in support of its mission to empower young women to pursue their dreams on and off the field. This collectible book serves as both an inspiration to young girls and a fond reminder to all former athletes of how sports participation has positively impacted their personal development and shaped them into the strong women they are today.
---
This product was recommended by Eddie Johnson from Anabolic Bodies
This is a great book that shows kids how they can make a difference and really make a change. It has lots of charts, photos, stories and input from real kids aimed at inspiring young readers. The author looks at the biggest challenges facing our world today and what's been done to make a difference. It gives lots of ideas of how to take action and covers issues like poverty, climate change, gender equality, health and endangered species. Well worthwhile reading with your kids.
---
This product was recommended by Tasha Danielle from Financial Garden
I would like to suggest Amina's Bracelets because its a great resource to teach kids about saving and that saving is not the only way to meet a financial goal.
---
This product was recommended by Chris Gadek from AdQuick
Part of the Chronicles of Narnia by C.S. Lewis, this book illustrates through adventure and bravery that it's possible to achieve anything. And for this age group, it's instrumental that the storyline illustrates that there are repercussions for our actions, including rewards for being creative, innovative and honest to one's self. Your little ones will feel like they can conquer the world after reading this timeless tale.
---
This product was recommended by Amanda Warne from AaWarne
Why empowering for a 10-year-old: The Reluctant Wizard follows a young boy called Eli who is given the chance to enter the Wizard's Academy. Living in a community that has to deal with the effects of war, Eli wants change. He has had enough of the poverty, hunger and famine, and this is his driving force. But in a world where everyone has magic, he finds out quickly that magic is not the answer.