The non-profit organisation Make It Your Business teams up with the British Library's network of Business & IP Centres to launch a national roadshow of informal talks and networking events for women entrepreneurs, set to tour in UK libraries
Established by entrepreneur, writer and broadcaster Alison Cork, Make It Your Business runs a regular programme of seminars across the country, providing opportunities for women to meet established local female entrepreneurs, learn from their experiences and network with other local aspiring female entrepreneurs in a relaxed and welcoming environment.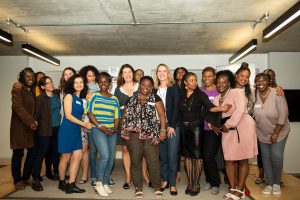 The new partnership with the British Library's Business & IP Centre and its National Network of 13 Centres located in major UK libraries will see the two organisations launch a specially curated 'Libraries Roadshow' of events drawing from the Network's alumni of successful female entrepreneurs and ambassadors.
The British Library's National Network of Business & IP Centres provides free, walk-in business information and support to help people turn their business idea into a reality. Specially trained librarians work with local business partners and experts to co-deliver services for start-ups and SMEs, including a regular programme of workshops, webinars and live screenings of inspiring talks by high-profile entrepreneurs at the British Library, which in the past have included the likes of Mary Portas, Kanya King, and Deborah Meaden.
New figures show that 60% of people using the service nationwide are women, over a third of whom are from a Black, Asian or Minority Ethnic background (compared to 20% and less than 5% of UK business owners respectively).
The Roadshow will kick off on 28 June at the Library of Birmingham. Details and additional dates will be announced soon.
For more information, visit the Make It Your Business Eventbrite page.
Isabel Oswell, Head of Business Audiences at the British Library, said:
"Since we opened the Business & IP Centre over a decade ago, we've seen consistently high numbers of women from all walks of life using our resources and expertise to launch successful businesses. As we work with public libraries to scale up and open more services throughout the UK, we're struck time and time again by the trust entrepreneurs place in these buildings – they truly are safe spaces for people to voice their concerns, take informed risks and grow their ideas. We're delighted to partner with Make It Your Business to carry on our work championing any woman with a business idea."
Alison Cork said:
 "Make It Your Business is a UK wide initiative to encourage women to start their own business, and it works because we are building strong local networking groups that give women the vital moral and practical support they need. As someone who is an entrepreneur, I have a particular interest in helping to foster enterprise and support women who want to take that first step into owning a business. I'm delighted that Make It Your Business is partnering with the British Library's network of public library partners to offer access to these trusted spaces of business information and support, and I look forward to following the progress of the entrepreneurs that become part of our network."
The British Library
The national library of the United Kingdom and one of the world's greatest research libraries. It provides world class information services to the academic, business, research and scientific communities and offers unparalleled access to the world's largest and most comprehensive research collection. The Library's collection has developed over 250 years and exceeds 150 million separate items representing every age of written civilisation and includes books, journals, manuscripts, maps, stamps, music, patents, photographs, newspapers and sound recordings in all written and spoken languages. Up to 10 million people visit the British Library website – www.bl.uk – every year where they can view up to 4 million digitised collection items and over 40 million pages.
The Business & IP Centre
 opened at the British Library in March 2006 with the help of London Development Agency funding. Since then, it has welcomed over 750,000 people through the doors and helped to create thousands of businesses and new jobs. The Centre provides entrepreneurs and SMEs with a free and low-cost programme of workshops, one to ones and networking events as well as intellectual property advice and access to high-value databases, including global company and financial information and market research reports worth over £5 million. This service is delivered to entrepreneurs across the country via 13 National Network Centres located in major UK libraries, with a further two set to open in 2019-20. The National Network provides an accessible, inclusive business support service to entrepreneurs from all walks of life: on average, 60% of its users are women and more than 40% are from a Black or Asian Minority Ethnic (BAME) background, compared with 20% and 5% of UK business owners respectively.