This natural and vegan deodorant stick is made without the use of chemical stabilizers and embodies the wonderfully relaxing and amazingly refreshing scent of a stroll through the countryside in the Provence and South of France. With a delicious scent of lavender blossoms, leaving you smelling fresh all day long and a solid consistency due to the shea butter and soda it glides on smoothly, and leaves the skin feeling great without being greasy or sticky. The active ingredient bicarbonate effectively reduces odor while arrowroot extracts keep your armpit dry!
To apply: push the bottom of the tube with thumb until the deodorant stick pushes out a little then rub a thin layer of our deodorant under the arms.
Store at room temperature.
Due to the nature of this product it may liquefy due to high outside temperatures, it is recommended to place it in the refrigerator to solidify.
Ben And Anna Deodorant Reviews:
"The best deodorant that I have ever used – I wear it every day & it has no unpleasant scents and my family can't smell me." Claire, London (www.london-review-holidays.co.uk)
"This deodorant contains no nasty chemicals, is organic and is very effective! I am very pleased with it and would definitely recommend it to anyone who is environmentally conscious and loves natural products, but isn't overly keen on using products which don't really do the job!"
"A nice effective deodorant at reasonable price. I'll cont. to use this. Wish all companies had a feel for what we want and need."
"This is an effective deodorant and an excellent price. It's great to find a product like this that works well."
"Very good deodorant, really controls smell, even on hot days. It leaves a slight white residue on clothes but can be prevented by rubbing it in well."
"Great deodorant. Slather on before bed and the smell is gone by morning."
"We both like the consistency of the product and the smell is not overpowering. We were looking for a deodorant that might not have some of the more questionable ingredients and this is it. We use this with confidence and will continue to use this product."
"Excellent deodorant. No irritation to sensitive skin. Nice smell and great value."
"Excellent deodorant. No irritation to sensitive skin. Nice smell and great value."
"No Sleeve!!!, I love it because it's 100% natural and it really works. I have stopped using a conventional antiperspirant and have been using this for about 3 years now."
"A top quality product. Initial smell is quite strong but that fades."
"This is a really good product, it's good to have a hard-hitting deodorant. It's a lovely size and fits in easily."
"Ben&Anna 100% Natural Deodorant, It's nice and soft on the skin. When I am late for work, I would quickly roll it up on my underarm. This works for me."
"I love this product. It does not leave any residue under the armpits and it is very effective. I will definitely buy again."
"I have used the Ben & Anna Deodorant for over a year now. I have tried many natural products before settling on this one, and I am very impressed."
"Great and effective deodorant."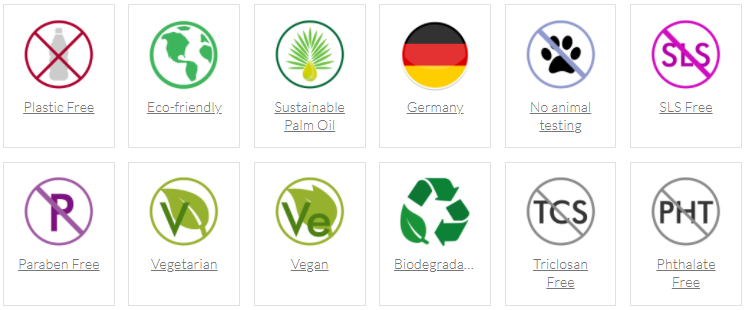 "I would highly recommend this product because it is a natural product that keeps the underarms unhygenic. I love this product and would definitely buy it again."
"This is a quality product compared to other natural deodorants that I have used. It has a good consistency and glides on smoothly over the skin, also having a pleasant smell (though a stronger scent than other natural deodorants)."
"Good deodorant with good fragrance and it is not that heavy."
"Lathers up nicely, smells great and really helps me to stay dry and fresh."
"Good product, works well and is gentle on my skin. Gives me confidence that I don't smell. Also economical compared to other deodorants."
"I've used this for a couple of months now, and am really impressed with it. The smell is great, not overpowering. It does a good job of stopping the BO. The consistency is nice and soft, so I don't have any issues with transfer to the clothes. Overall I would definately purchase again."
"I'm not a big fan of deodorants, but I'd much rather use a plant stick than conventional ones. This one is very effective and pleasant. Scent doesn't last all day, which is fine for me."
"This is a very effective product for me. I don't like the sticky feeling I get from commercial brands and this one works perfectly, no residue or stickiness. People may think it unsophisticated not to have a strong scent, but for me, it's better than the alternative. I will buy this again."
"Ben & Anna's pure deodorant is all that I have been looking for: it is very effective, smells wonderful and is safe to use. I wouldn't change it for conventional deodorant. I am very pleased."
"This is a great product. It is well priced and very efficient. I have tried several natural deodorants and this is by far the best."
"Smells quite nice and works pretty well. Uses less than natural deodorants but get the same results."
"Very effective at odor control."
"The deodorant that Ben & Anna Natural Foods makes is just what I was looking for: it is a completely natural product that is easy to use and smells fresh. I would not change it for any other deodorant. Ben & Anna have found the perfect formula for a natural deodorant."
"This is a very good natural deodorant with a lovely smell. I don't like heavily scented products, so was glad when I found this one. It's also very effective, and does not leave a sticky residue. I'm very pleased with it."
"It is a great deodorant with a wonderful flowery scent. It does not leave a sticky residue and it is very effective."
"This deodorant works as well as high street brands and is a fraction of the price. I'm very pleased with it."
"It's a very good quality deodorant. It does not cause irritation and the smell is nice. Initially, I was worried about the claims that it does not prevent armpit sweating, but when I used it I found that it worked great and caused no unpleasant sweatiness.