Farleigh.io, is a social marketplace — a bit like Pinterest, but shoppable; a bit like Depop but more curated; a bit like Instagram but more mindful.
Millions of businesses will be struggling to keep afloat due to this viral outbreak. They will not survive weeks of zero cash flow. As we move everything online, it's still particularly hard among the saturated market for the smaller to medium independents to be seen online.
Both the impacts of COVID-19 and the rising popularity of e-commerce  — has generated an abundance of new shopping platforms and marketplaces that allow anything to be sold by anyone, anywhere —  not just from a store. For many brands, businesses and so called bedroom entrepreneurs, social shopping platforms like Farleigh.io can be the basis and source of all their income.  And so Farleigh.io is interested in giving brands, creatives and bedroom entrepreneurs a place to thrive online. A digital high street if you will.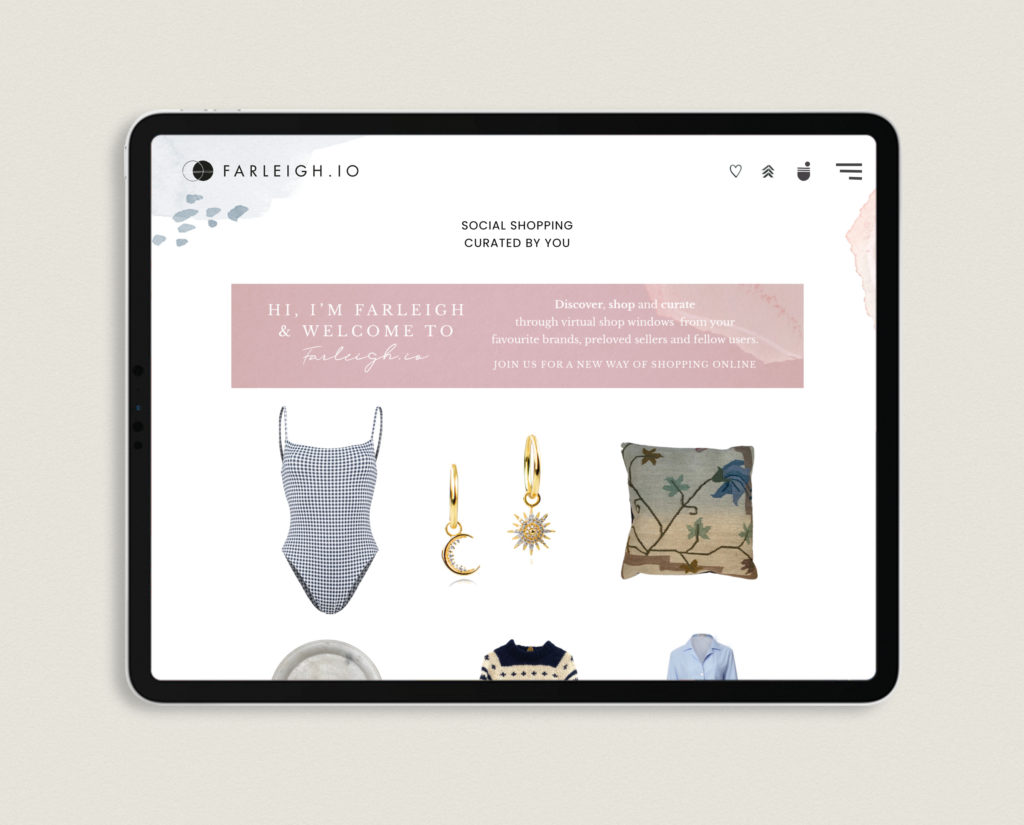 Farleigh.io is unique in its concept but sits at the intersection between Depop, Pinterest and Instagram. If Pinterest is a visual discovery engine for finding and sharing image inspiration; Farleigh.io is a discovery engine of shoppable products — everything from homeware to jewellery and clothes. With an easy-to-use interface that's been developed for simplicity and style, users design their own shop windows that look professional and slick — and with a quick click-to-buy mechanic taking you straight through to an in-built check out.
Farleigh.io's business model is similar to second-hand clothes app Depop – whose popularity comes as Gen-Z's embrace a different way of shopping online racking up 13 million users, 100% y-o-y growth for several years and gross merchandise value of c.$500 million. Farleigh.io focuses on a similar Gen-Z audience, targeting preloved but also beautifully, sustainably designed products from small to medium size independents. Shoppers can discover items off a shoppable news feed. And just like Depop, Farleigh.io's business model will take 10% of each profile-to-profile transaction — that's to keep the site up and running — and the seller takes the rest.
Similarly to Instagram, Farleigh.io focuses on the power of social shopping and the belief that we still trust and value our friends' and style icons shopping recommendations the most. Windows are easy to design and fun to curate. Once a product is published, other customers can re-window, re-mix and re-publish items into their own windows — each creating and sharing their own looks and styles. And if a user inspires a sale for another seller by curating it in their window — then they are rewarded 5% just for inspiring a sale. It's the next generation of influencer commerce where anyone can monetise from curating. It's authentic, personal and transparent.
The platform celebrates sustainable products that don't wreck the planet – and is all about reducing, reusing and recycling. So each window is limited to ten items. Not only does this prevent visual clutter but it also encourages smaller collections with more high quality products. And they've made it easier than ever to incorporate your own pre-loved clothing, homeware or…anything into your window, alongside the new stuff. This dramatically increases the life-cycle of that garment, promotes a more circular economy and reduces the carbon-cost-per-use.
The Story
Ms Hungerford, founded Farleigh.io in 2020 and is set to launch this year. Having previously set up her own fashion brand; her new, sustainable marketplace really comes as a reaction to the fast fashion waste, mass production and onslaught deadstock she experienced in setting up her previous venture. Ms Hungerford says "I want to help build a future which is greener, fairer, healthier, more resilient and more innovative than ever before. At the heart of my vision is for us to redefine consumer culture as: more conscious, more mindful, more sophisticated and better informed." And so Ms Hungerford's sustainable manifesto plays a large part in building her community.
Business Projection
Given the current climate, it hasn't been easy for female entrepreneur Ms Hungerford to raise her first seed round. However Ms Hungerford has managed to bootstrapped the platform from money she made from her first venture, a food start-up Scratch Meals. She is currently talking to venture capital firms to take her to the next step. Her goal is to hit £30m + in revenue over the next 7 years.
Farleigh.io is launching as a secret coded, invitation-only platform, so stay tuned for information on how to get involved in the next shopping revolution.
Social Shopping – curated by you