The Economist has named 2019 as 'the year of the vegan'.
The most popular vegan cosmetic brand is e.l.f., with their animal-free, humbly priced products.
Renowned for the 'Naked' eyeshadow palette, Urban Decay is the vegan brand with the second highest rating as voted for by the public.
Beauty experts and vegan MUAs share exclusive tips with Showerstoyou.co.uk on how to kick start your vegan beauty lifestyle.
Veganism is a burgeoning lifestyle. Increasing numbers of us are embracing the meat-free diet, so much so that's it's transcending into other areas of our lives, too.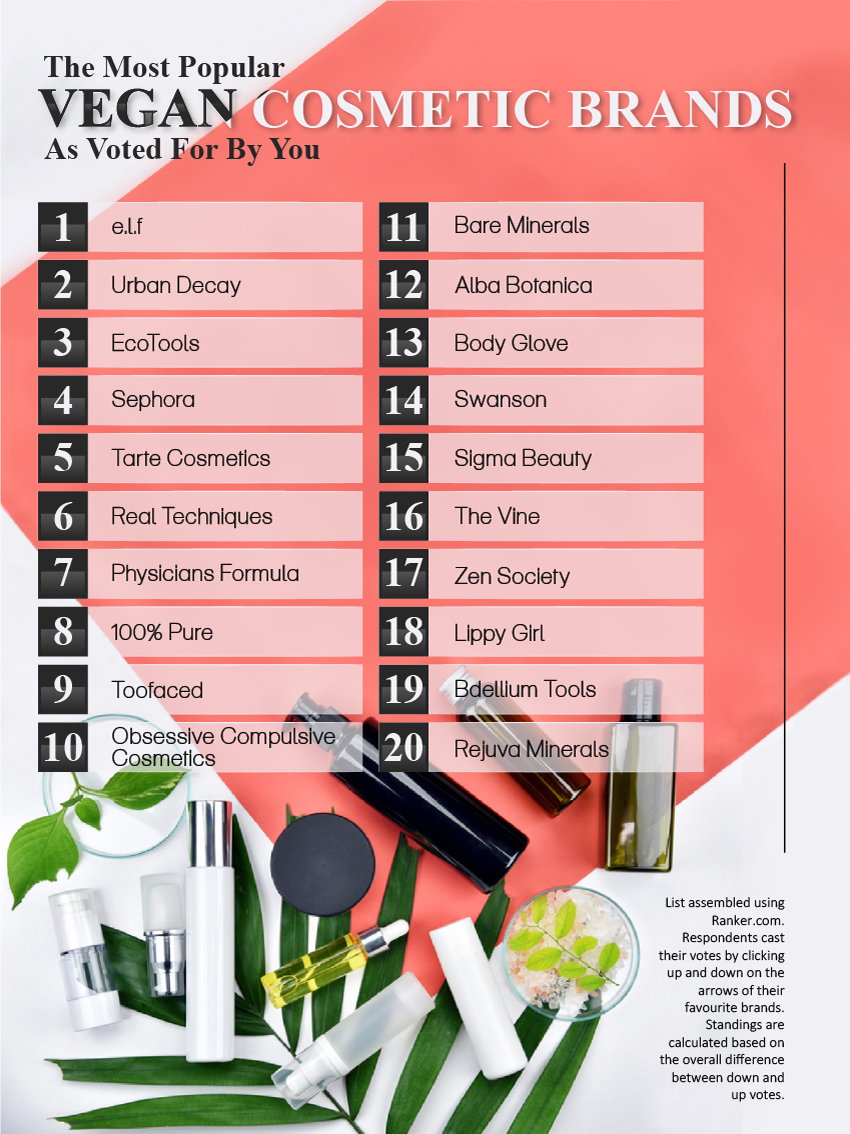 We now seek animal-free beauty regimes, and yet products such as these are incredibly difficult to acquire. Shrouded in vague 'parfum' phrasing, it's difficult to know which products are in fact vegan, and importantly which, if any are good.
So, Showerstoyou.co.uk sought to satisfy this quandary. Using Ranker.com, beauty fanatics, cruelty-free advocates and internet users cast their votes* to reveal the top 20 most popular vegan brands.
Which brands come out on top?
All the brands below can be found on amazon.
The highest voted vegan makeup brand and coming in first place is e.lf. e.l.f. are known for their affordable, yet impressive range of products. Not to mention, they're also completely paraben-free.
Urban Decay claim second place. Their 'Naked' collection is acclaimed worldwide, with most people familiar and/or owning at least one of their products.
In third place is EcoTools, which sells an impressive collection of vegan makeup brushes and beauty accessories. Get yourself great sustainable blending sponge from Eco Tools, available on amazon.
And in fourth place, Sephora: a multinational seller of emerging vegan brands such as Kat Von D, Huda Beauty and Anastasia Beverly Hills.
1. e.l.f.
2. Urban Decay
3. EcoTools
4. Sephora
5. Tarte Cosmetics
6. Real Techniques
7. Physicians Formula
8. 100% Pure
9. TooFaced
10. Obsessive Compulsive Cosmetics
11. Bare Minerals
12. Alba Botanica
13. Body Glove
14. Swanson
15. Sigma Beauty
16. The Vine
17. Zen Society
18. Lippy Girl
19. Bdellium Tools
20. Rejuva Minerals
Speaking exclusively to Showerstoyou, vegan beauty experts share their advice on taking the leap into the vegan beauty lifestyle:
"Thanks to the internet, the whole concept of Veganism is becoming more mainstream. Consumers are seeking cleaner and kinder alternatives, which brands are starting to notice and act on – I expect we will see more of this in the future, too.

I often shop online, and most websites have a convenient search bar for vegan products which helps, though it doesn't need to be that hard in store either – just look out for the little V on the bottle! I personally love Kat Von D beauty, and Milk makeup became 100% vegan this year too. But there are many more fabulous brands to get your hands on." – Jessica Haze (@jessicahazemua), Vegan & Cruelty Free Makeup artist.

"A cruelty-free product means it hasn't been tested on animals, whereas vegan means it contains no animal products. Due to this, the two unfortunately don't go hand-in-hand.

This makes it difficult to choose products, but there are things you can do. Check for the leaping bunny logo on products, and you can always visit vegan blogs like Cruelty Free Kitty which aim to clear the air a little.

But most importantly, don't get overwhelmed. You don't need to throw away all of your makeup at once. When I updated my kit, I found that adding one new vegan product at a time was the most feasible strategy. And remember that when it doubt – Google it!" – Emma Olliff, Cruelty Free Hair & Makeup Artist.

"Many cosmetic manufacturers proudly include 'vegan' on their product packaging. However, when something isn't labelled, it can be difficult to dissect the many misleading ingredients. Common non-vegan ingredients to watch out for include: Lanolin, squalene, shellac and glycerine.

So, where do you start when making the switch to ethical, vegan and cruelty-free cosmetics? It does take a little bit of research, but where possible, find a store that only sells vegan products. That way, you can be sure that what you're buying is safe.

My personal favourite brands include: Eco Tan & Eco by Sonya, Acure Organics, Hanami Cosmetics, Tabitha James Kraan, and Hurraw!" – Aida Rejzovic, owner of Sassy Organics.

"When searching for vegan products, I always look for the main ingredients that aren't vegan, like beeswax, carmine and lanolin. There are many that are hidden under different technical terms though, so it's always good to check with the company.

Ofra and e.l.f. are some of my favourite and fully vegan and cruelty-free brands, but many other brands that aren't fully vegan have vegan options, such as ColourPop and Milani – all you need to do is ask." – Leticia (@xoloveleti), Vegan/ethical vlogger & Makeup artist.
*Respondents cast their votes by clicking up and down on the arrows of their favourite brands. Results were calculated based on the overall difference between up and down votes for each brand on 17/07/19.
*Standings are based on a total voting score of 303.
*The full ranker tool lists 52 established vegan cosmetics brands – if your favourite isn't shown here and would like to see where it placed, don't hesitate to get in touch for the full standings.