It's obvious that the best for us is what comes from nature. Artificial products have unknowns and artificial effects – who wants that?
Essentially, we also have some picks that are eco-conscious, comfortable and easy to apply, as well as the most highly-rated products. Sunscreen is one of those essentials that deserve the extra investment if you're spending a lot of time outside, so don't hold back – check these out!
#1

Osmosis +Skincare Spf 30 Broad Spectrum Sunscreen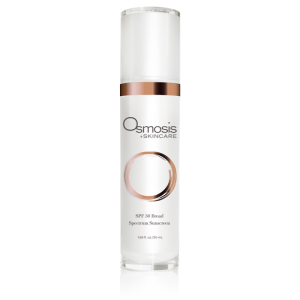 Healthy skin is always in! Protect your skin and our planet with this eco-friendly sunscreen that is non-nano coated and zinc oxide-based offering broad-spectrum protection without causing harm to our bodies or our oceans.
#2

Sun Prep Broad Spectrum Spf25
An everyday sun protection + primer + hydrator is all you need (at least for your face with our SUN PREP Broad Spectrum SPF25) to reconnect with the world outside. Come out.
SUN PREP Broad Spectrum Skincare SPF25 (50ml / 1.7oz) naturally shields delicate skin from UVA/UVB rays with anti-inflammatory and anti-oxidant rich organic plant extracts such as rhatany root, green tea leaf, wild pansy and licorice that soothe and protect the skin while creating a flawless base.
Lightweight with a transparent, non-greasy finish, this Organic sun protectant, with micronized non-nano Titanium Dioxide, moisturizer and primer-in-one is free of all ingredients that are irritable or can increase skin's sensitivity. This sun protection is mineral based and not chemical based.
#3

Derma E Natural Mineral Sunscreen
The best natural sunscreen out there is by Derma-E- I've tried so many! It contains nothing harmful, and uses zinc.
#4

Baby Sunscreen Organic Spf 30 Broad Spectrum By Made Of
MADE OF's organic baby sunscreen is Oxybenzone free and completely reef safe, 75% organic and 100% natural, NSF organic certified, has an EWG rating 1, is Gluten free and is USDA biodegradable certified.
#5

Daily Defense Facial Sunscreen Spf 30 2Oz
This sunscreen combines mineral sunscreen Titanium Dioxide with Octinoxate to deliver 30 broad spectrum UVA/UVB protection against sunburn, skin cancer and early skin aging caused by the sun. It is enriched with natural botanicals to soothe, hydrate and protect sun-exposed skin. This gentle formulation is specifically designed for the face. No parabens, sulfates, mineral oil or synthetic fragrances and colors.
#6

Babo Botanicals Sheer Zinc Spf 30
My favorite natural sunscreen is the Babo Sheer Zinc SPF 30 sunscreen spray. It's fragrance free and formulated for sensitive skin, and is full of great soothing ingredients for your skin, such as aloe vera juice, Jojoba oil, sunflower oil and avocado oil.
#7

Organic Reef Safe Sunscreen
The Organic Reef Sunscreen has become one of the top selling items for Sand Cloud with rave reviews. Harmful chemicals and greasy formulas don't belong on your skin, and they definitely don't need to harm precious coral reef and marine life. Thank goodness for our reef-safe handmade sunscreen with organic ingredients and natural minerals. This moisturizing sunscreen will leave your skin feeling soft, smooth, and protected from harmful UVA/UVB rays.
#8

Babo Botanicals Clear Zinc Sport Stick Sunscreen
Babo's zinc oxide formula goes on clear and offers a full 80 minutes of protection, even if you're sweating like crazy. The stick formula makes it easy to carry around in your purse or beach bag.
#9

Neutrogena Sheerzinc Face Sunscreen Spf 50
This sunscreen is very easy to apply. It has a silky smooth feeling so it can easily be worn under your makeup. It's made from naturally-sourced zinc oxide. It also has dry-touch technology so it doesn't dry greasy. It's free of irritating chemicals, dyes, phthalates, parabens, and fragrance. It even contains antioxidants to protect your skin from free radical damage.
#10

Zincscreen 100% Mineral Lotion
Zincscreen 100% Mineral Lotion has an SPF 40, which is better than the recommended SPF 30 by the American Academy of Dermatology. Being a mineral sunscreen (made with zinc oxide), it is safe to use and effective even for sensitive and acne-prone skin types. It nourishes the skin with delightful fruit extracts from winter cherry, coconut fruit, and blueberry, while protecting the skin from sun's harmful UV rays. Makeup lovers will surely fancy this sunscreen for its blendable, skin-brightening pink tint!
#11

Naturopathica Daily Uv Defense Cream Spf 50
Naturopathica Daily UV Defense Cream SPF 50 is made with zinc oxide that acts as barrier for both UVA and UVB rays. I love the fact that it contains other natural ingredients such as Green Tea Leaf Extract, which is high in antioxidant properties that helps protect the skin against damage. This sunscreen harnesses the power of nature with its multitude of flower extracts, essential oils, and other natural goodness. Applying the product not only protects your skin from the harmful sunrays but also nourishes your skin.
#12

Red Raspberry Seed Oil
Red Raspberry Seed Oil has a broad spectrum SPF 28-50. Unlike other herbal oils, the Red Raspberry Seed oil covers both UVA and UVB spectrum.
Simply put, UVA refers to aging factors, UVB to burn. This oil successfully protects the skin in both ways.
However, it is very important to understand that the SPF factor varies from 28 to 50 because it depends on a series of factors, two of which are the most important: properties of the skin, and quality of the oil.
Also, if you do not have a critical skin condition that prevents you from using conventional sunscreens, look for natural sunscreens based on zinc oxide or titanium dioxide. These two ingredients have been definitely approved by the FDA, and both are physical sunblocks. This means that the sunblock doesn't get absorbed by the skin, but rather stays on its surface and reflects the sunlight.
#13

Belli Skincare Pure Radiance Sunscreen Spf 30
Belli Skincare Pure Radiance Sunscreen SPF 30 is a natural sunscreen with a mineral based, oil-free formula which allows it to be one of the healthiest sunscreen you can choose. With good-for-you ingredients such as Green Tea, Chamomile and Cucumber, Pure Radiance Sunscreen SPF 30 blocks 97% of the harmful UVA and UVB rays.
And, the light tint acts as primer without any staining to further protect skin. Belli Skincare Pure Radiance Sunscreen SPF 30, a 100% safe and natural sunscreen perfect for infants, children, adults and pregnant women, is OB/GYN and dermatologist recommended, Allergy Tested, Paraben-Free, Gluten-Free, Cruelty-Free, Vegan and doesn't contain any Artificial Dyes, Chemicals or Fragrances.
#14

Green People Sun Lotion
Green People use ethically sourced natural ingredients in their products. Their sunscreen lotion also contains a tanning accelerator and is water resistant.
#15

Amazinc Mineral Sunblock Stick
This natural sunscreen is a zero waste, natural sunscreen with SPF50 protection, nano free, plastic free, and not harmful to marine life.
#16

Wooden Spoon Sunscreen
This is an organic SPF50 sunscreen suitable for both baby and family. It contains no harmful chemicals or synthetic ingredients such as preservatives or allergens.
---
The recommendations of products and books within this article where sourced from industry experts. Their names and websites are listed below.