This article showcases our top picks for the
Best Books For 4 Year Old Girls
. We reached out to industry leaders and experts who have contributed the suggestions within this article (they have been credited for their contributions below). We are keen to hear your feedback on all of our content and our comment section is a moderated space to express your thoughts and feelings related (or not) to this article 
This list is in no particular order.
This product was recommended by Holly Winter Huppert from HollyWinter
Write Now: Ideas for Writers was written by a preschool teacher who understands that young girls love to talk about their lives. The photos encourage a range of ideas to write about. As young girls grow, they are motivated to continue writing using the writing prompts in the book. Finally there is a writing book for young children that can spark conversations when they are young and writing topics as they age.
---
This product was recommended by Stephanie Campisi from StephanieCampisi
Illustrated in gorgeous mid-century style, LUIS AND TABITHA is the purrfectly delightful tale of two star-crossed kitties who would go to any length to be together. Think The Lady and The Tramp, but with cats!
---
This product was recommended by Ivoire Lloyd from Lloyd Gamble Consulting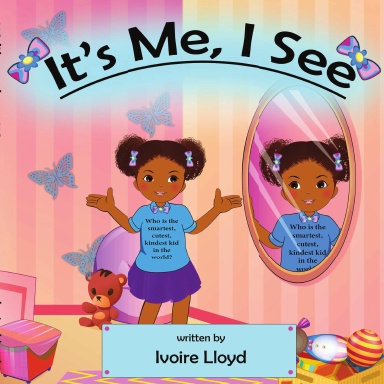 I wrote this book for parents to encourage and uplift their children and to help them remain positive when describing themselves. In our present times and as we raise our children, we want them to know that they can be anything in this world, no matter what.
---
This product was recommended by Dr. Rachel Wellner from Doctoroo.health
In Doctoroo! & the Case of the Hacking Hippo, an opera singer is sick and her friends have to figure out why – spoiler: she hasn't been washing her hands properly! Let Doctoroo and her furry group of friends teach our kids about proper hygiene, while spreading the message about the importance of washing our hands and other safety measures.
---
This product was recommended by Kim from Mom Of Kids
Dear Girl is written as a beautiful and heartwarming letter. It encourages a sense of self, builds confidence, self-esteem, supports girls in valuing who they are as unique individuals, and in understanding their importance in the world.
---
This product was recommended by Harriet Chan from CocoFinder
This book tells a story about princess Alice, who loses her blanket and tries to find it, following hints from her brother to Giant, the witch, and lastly, the dragon. It has a great message that teaches young girls about friendship, empathy, determination, generosity, sharing, and helping others. Alice's perseverance through the search shows how compassionate and brave she was to help the dragon, a character rarely displayed in stereotypical princesses. The author used lilting rhyme, words, and rich illustrations that make it a fun story to read aloud to young girls and make them smile and understand how others feel.
---
This product was recommended by Stephen Curry from CocoSign
When it comes to four years old girls, this book makes an excellent gift choice for them. In the book are ten classic fairy tales with enchanting illustrations. It is easy to read and helpful when introducing a kid to early reading. You can start by introducing them to "Jack and the Beanstalk," "The Ugly Duckling," and other classic tales. Even though they may not yet be good readers, the book has great stories and uses simple words and sentences to encourage them to try.
---
This product was recommended by Yesenia C. from Hard Knock Mama
Ladybug Girl is my 4 year old's favorite book! The main character Lulu is very relatable to a 4 year old girl. She finds herself bored at home, excluded by her older brother, and learns to find adventure right in her own backyard. It also touches on themes of bravery, confidence, and independence, traits every parent wants to instill in their young daughter.
---
This product was recommended by Sara Conrad from Happy Moments Mom
This magical story has all the unicorns, rainbows and sparkle many 4 year old girls love combined with a sweet message of self-acceptance, embracing differences and family.
---
This product was recommended by Lynda Fairly from Numlooker
This book is about a rabbit who is addicted to collecting and eating carrots. He loves carrots too much until he has run out of space in his house for storing them. It's beautifully illustrated with the familiar colors of carrots and daisies to make it even more colorful and appealing for kids, meanwhile it's witty and interesting to read.
---
This product was recommended by Alex Wan from Vinpit
Whimsical pictures enable easy learning for children and that's what this book is primarily based on. This is a great book for 4-year old girls since it goes a long way to appreciate all the good feelings parents have for their kids. It also tries to affirm parents that they'll love whoever their kids will turn to be as they grow up. I highly recommend this book since, besides all the positive things it can do to both the parent and the kid, it largely helps in strengthening the relationship between the two parties.
---
This product was recommended by Sally Stevens from FastPeopleSearch
The Book with no pictures is not your normal fairy tale book for 4-year old girls or even a comic book for that matter. I hesitated when buying the book because I was worried about my then 4-year old daughter's ability to read it. She hardly ever reads through books with no pictures, but she absolutely loved his one. B.J Novak's approach in this book is comical, almost awe-inspiring. 4-year-olds may start groaning when you tell them that the book has no pictures to see, but they'll be laughing hysterically within the first few pages of the book. This was the case with my daughter, who absolutely can't sleep without a reading of the book today. To think of it, this book pretty much got us through the boring pandemic period, Even when all my jokes had become stale, I could still read the book and she'd fall off the chair in laughter.
---
This product was recommended by Janet Coleman from The Consumer Mag
Your little one would love to go back in imagination with cute Harold, who decided to go for walk in moonlight with an oversize purple crayon.As they try to figure it out by crossing sea, jungles and dragons to get back Harold in his bed safely.Story has been written by Crockett johnson filled with full of excitement and wonder.
---
This product was recommended by Janet Coleman from The Consumer Mag
If Animals Kissed Good Night is a story telling book written by David Walker. This book filled with rhymes. Story book tells us about the different types of animals parents who gives a good night kisses to there children while going to the bed.You will going to find creative kisses like mama elephant to baby elephant.
---
This product was recommended by Janet Coleman from The Consumer Mag
This book tells you about a beautiful bond between a black father and a daughter. When zuri's mom is away here father give his daughter an extra special hair style to boost her confidence. Hair love is best seller of New York times and written by Matthew A.Cherry.
---
This product was recommended by Janet Coleman from The Consumer Mag
Book written by Chirs Van Dusan is full of imagination by Jack who fantasy a to build a house which has a huge swimming pool, flying room and a race track.Jack wants to build his house with endless creativity. If your child is activity this book can help him imagine his own house filled with creative rooms.
---
This product was recommended by Julie Ann Ensomo from Adaptable Mama
It's a book about being empathetic, being observant and using problem solving skills to help someone, particularly the protagonist's sister. My daughter loves this book as she's now in that phase where she likes to figure out things on her own and likes to do a lot of problem solving activities. This book will encourage your kid to become mindful of other people and their surroundings and to always look for a way out of sticky situations. I highly recommend it!
---
This product was recommended by Andy from Cloom
An enchanting mermaid tale and fun Christmas stocking stuffer from the New York Times and USA Today bestselling How to Catch series Many claim to have caught a mermaid, but can YOU? Perfect for mermaid lovers, summer reading, and gifts for kids ages 4-7, this funny mermaid picture book is brimming with fun STEAM-based traps and offers an irresistible under-the-sea adventure that parents, educators, and children will love! Filled with plenty of laughs to go around, this under the sea adventure is the a fun holiday gift book for kids!
---
This product was recommended by Andy from Cloom
This fun family read-aloud is the perfect way to start Halloween celebrations and an ideal gift book. A sweet story of quick wits, friendship, and inclusivity from the creators of The Gruffalo! The witch and her cat are happily flying through the sky on a broomstick when the wind picks up and blows away the witch's hat, then her bow, and then her wand! Luckily, three helpful animals find the missing items, and all they want in return is a ride on the broom. But is there room on the broom for so many friends? And when disaster strikes, will they be able to save the witch from a hungry dragon? Julia Donaldson and Axel Scheffler are the creators of many beloved picture books including The Gruffalo, The Gruffalo's Child, The Snail and the Whale, and The Spiffiest Giant in Town.
---
This product was recommended by Eden Cheng from PeopleFinderFree
Your 4-years old girl will surely fascinate the story of Darla as it is an exciting adventure story. This book contains 8 superior stories in 1. Hence, it becomes a highly empowering, interactive, and fun book for your baby girl. Darla is a spunky and young astronaut-in-training, who wants to travel Mars one day with her doll Astronautica. Before she starts her journey, she needs to know how to navigate through corresponding scenarios, which many kids encounter daily. As this book is jotted down in a "choose your own story format," your lovely girl can help Darla through her day by making prudent choices for her. Total eight consecutive stories are there, hence the fun of reading the book never ends.
---
This product was recommended by Elizabeth Michelle from TeachingBrave
What I love about this story is how it engages the reader, children and adults alike. What could possibly happen if I keep disobeying the 'rules'? It builds suspense, it will most likely have all listeners calling out 'Again, again' after it's all over, craving for a repeat of the surprises and the anticipation. The illustrations are simplistic and yet the expressions on the face of the key character are very engaging, expressive and unambiguous. If he's upset with the reader, we know it! If he's nervous, it's clear. He's very unique and amusing too.
---
This product was recommended by Smriti Tuteja from Yogic-Experience
In a world where sexism and patriarchy still prevail, little girls need to know that they can be anything they'd like to be. They need to be assured that there is no dearth of opportunities and they could choose anything from botany to performing arts to a multitude of other avenues. The protagonist of the book Lola is a dreamer, full of life plans and has a wise bear as her friend, to guide her through her confusion. It is a fun and inspiring book that gently nudges little girls to learn everything that comes their way and move towards their future. It is the perfect mix of intriguing text and lovely illustrations that encourage aspirations and self-belief.
---
This product was recommended by Denise Cesare from DeniseCesare
Brooklyn native, Denise Cesare, an educator herself, is the author of Moments in Motion with Love, a children's book with Social Emotional learning components. Moments in Motion teaches youngsters the power of positivity and to be in the moment. This book is. great opportunity for mothers and daughters to bond, while learning valuable lessons and supporting a female owned small business!
---
This product was recommended by Jennie from GinGin and Roo
As a mum of two girls it's important to me that their view of the world and what they can achieve is not limited by perceived gender roles. This is a great book to read with small children. It's colourful, well-written and is simply brilliant in reinforcing the message that girls can do anything!
---