This article showcases our top picks for the
Best Environmentally Friendly Dog Poop Bags
. We reached out to industry leaders and experts who have contributed the suggestions within this article (they have been credited for their contributions below). We are keen to hear your feedback on all of our content and our comment section is a moderated space to express your thoughts and feelings related (or not) to this article 
This list is in no particular order.
This product was recommended by Daniel Caughill from The Dog Tale
BioBag's planet-friendly pet waste bags are made from the starches of plants, vegetable oils, and polymers, so they break down more easily than plastic bags. We also like that the bags are opaque, so nobody can see your pet's waste as you carry it to the garbage can or composting bin.
---
This product was recommended by Christos Philippou from Delaware K9 Academy
These bags have a great feel and are not paper thin. I use them for my Great Dane and have no issues with them. I have yet to have a bag rip on me yet, so I think it's a great option for dog owners looking to help the environment without sacrificing on poop bag quality.
---
This product was recommended by Amber Rogers from My Chicken Guide
I find these bags the best for my large dog. Being bigger means bigger poo so you need the strength in the bag to hold the weight. Using compostable bags is very important to me with my environmental background and these are made of corn starch which will break down when disposed of.
---
This product was recommended by Joey Difrancesco from Lolahemp
Botewo dog poop bags are entirely biodegradable. They're also a great choice because they're sturdier than a lot of the other biodegradable options on the market. They smell pretty good, too.
---
This product was recommended by Joey Difrancesco from Lolahemp
Portworld bags are another sturdy biodegradable option. They degrade within a year to 18 months, so their turnaround is pretty quick. That means they don't sit in landfills taking up space for decades before they waste away. Portworld also offers a free holder when you order.
---
This product was recommended by Joey Difrancesco from Lolahemp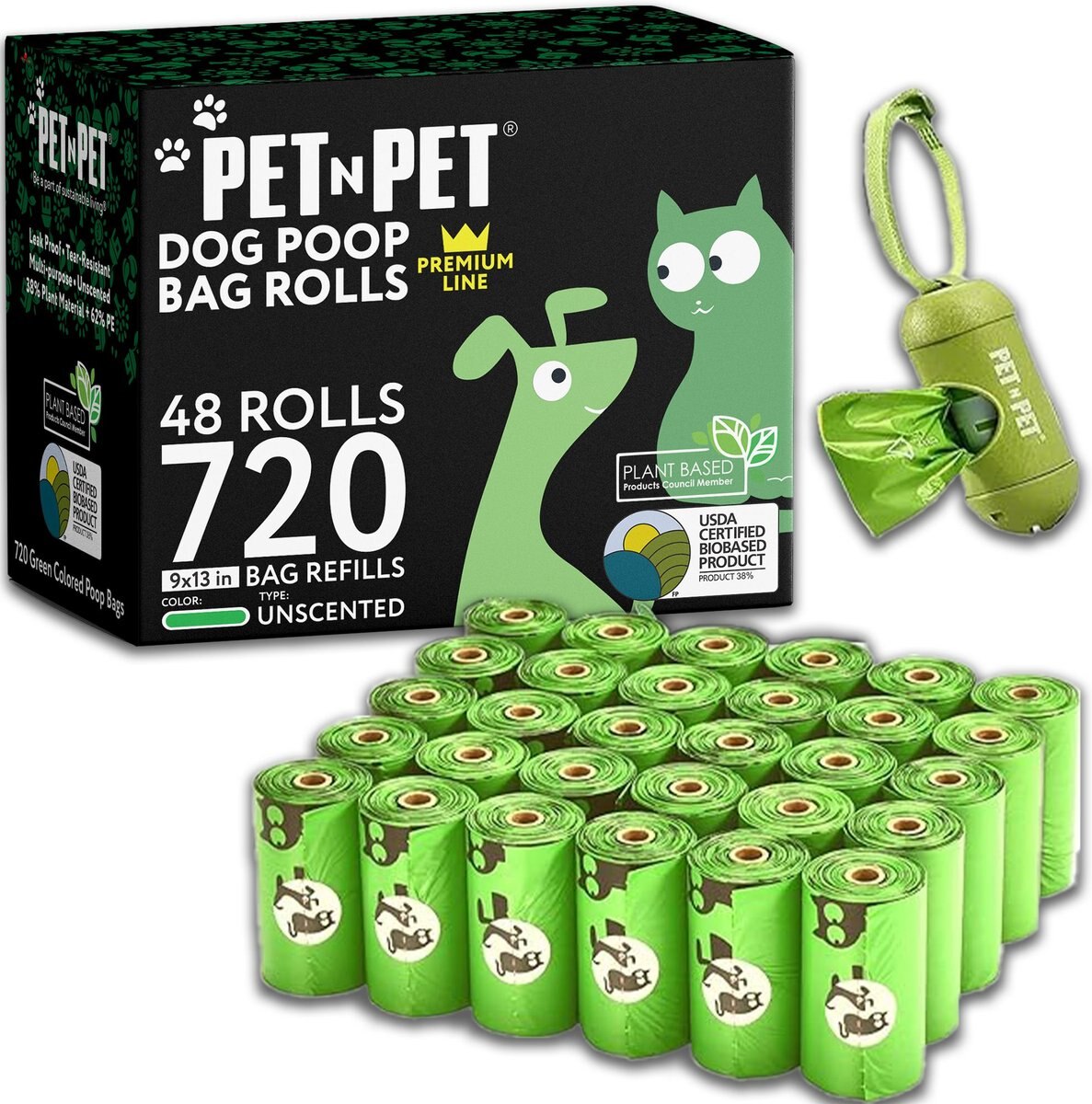 PET N PET poop bags are probably the best option for those looking to get a high quantity of eco-friendly bags on a budget. They're sturdy, made from recycled materials, and include 720 bags for around the same price as the other players on the market."
---
This product was recommended by Amanda Takiguchi from Trending Breeds
I have tried many brands of bags over the years but since I discovered the Earth Rated Dog Waste Bags, I use no other. I use the scented bags because on long walks it kind of disguises the smell of the feces (except those that are potent), so you don't smell like feces to any passerby. I usually prefer unscented things because I have a sensitive nose and for those inclined, Earth Rated does offer non-scented bags. The Earth Rated bags are also a bit longer than a few other brands though most are similar length. However, the bags are heavier than many other brands and have way better sealed seams as well as high quality separation perforations. The central cylinder glides easily in every brand of bag holder I have. Lastly, a small but important detail…you know that small piece of tape that holds a new roll together? Most brands use a tape that when you pull it off it puts a hole in the opposing part of the bag if you don't very carefully remove it. A hole at the top of a bag is no big deal but further down can lead to leakage. The Earth Rated tape comes off real nice and my first bag isn't destroyed. Overall, a very strong, well-made bag that has never let me down. It can hold any load big or small, firm, or loose and will not leak or tear.
---
This product was recommended by Jean Chen from Cicinia
As dog owners, disposing their waste is one of the crucial situations that we encounter everyday with them. These poop bags are made to reduce nature from waste pollution. It is compostable and hard enough to tight waste inside which helps the smell of the poop stay inside of it. The bag itself has no scent and after a couple of months it starts to decompose together with the poop. It can be used also to dispose of some waste materials that make your home stinky. The characteristics of being hard and compostable makes these bags different from others.
---
This product was recommended by Sarah Anderson from PupVine
BioBags' are compostable bags manufactured from vegetable oils and other compostable oils, as well as various plant-based materials to make sure they are entirely biodegradable. As a proof, this product meets the standards for the ASTM D6400 certification. The bags come in two sizes, so you can choose the one that's fit for your (or rather, your dog's) needs. The smaller size can be too small for large and even medium breeds, so this is something to keep in mind. To make them portable, the manufacturer packed them in rolls. From my experience, they are very easy to use. Also, you can get them with handles.
---
This product was recommended by Sarah Anderson from PupVine
If you'd like to get environmentally-friendly dog poop bags that can last you for a very long time, you should certainly try this product out. I bought a box around six months ago, and I still have plenty of rolls left! With that in mind, this is probably the best product when it comes to the value for the price. The affordability never hindered the quality, as the baggies are as durable as some much more expensive ones. You can choose from several scents, but my favorites are unscented ones. They are also the ones with the least artificial ingredients, making them a great choice if natural products are your priority.
---
This product was recommended by Kristiana Juste from SustainabilityNook
The Planet Poop home compostable dog poop bags are one of the best eco-friendly poop bags out there. Not only are they easy to use thanks to their impeccable stretch and easy-to-tear perforations but you can also easily compost these bags at home since they are made of cornstarch and therefore will break down easily. Just remember that dog poop itself isn't safe for composting so if you are thinking of adding these bags to your compost, you will have to dispose of the poop first. On top of all that, with every purchase Planet Poop also supports Mission Pawsible in Bali, a not-for-profit dedicated to dog rescue and rehabilitation. So Planet Poop not only help the planet with these green pet waste bags but also give back.
---
This product was recommended by Rob Greene from Price of Meat
The bags are big enough and thick enough to handle any size, and volume of dog poop, they're stored on an easy-to-carry and dispensed from roll, and best of all, they're made from one hundred percent biodegradable material. That means that if you use them to clean up after your faithful hound, you won't just be keeping your community clean, you'll also be helping to save the planet.
---
This product was recommended by Shakib Nassiri from WAMA Underwear
Environmentally friendly dog waste bags is a surprisingly competitive market, but I think this product stands out for a bunch of reasons. Here are the main ones: – They're great dog poop bags. Of course, that's the prerequisite, but these bags are big, odorless, and thick. You can trust them to do the intended job, and without any leakage. – I love the fact that 10% of all the company's profits go to charity, specifically the Soi Dog Foundation, a charity seeking to improve the lives of cats and dogs in Asia. The company does genuinely seem to care about the welfare of dogs as well as the environment. – The bags are 100% made from recycled materials and 100% home compostable. This is a great feature for someone like myself, who grows their own produce. – I love the fact that when buying these poop bags I'm supporting a small business, spearheaded by an environmentally conscious husband and wife duo.
---
This product was recommended by Chris Coleman from RV Talk
This environmentally friendly dog poop bag is very easy to use. This durable dog poop bag provides a leak-free protection, so you don't have to worry about spilling dog poop all over while traveling. It is a product that is certified safe and clean. It is made with corn starch material so it is more durable than common dog poop bags.
---
This product was recommended by Aaron Rice from Stayyy
Greener Walker Poop Bags are designed to make dog-walking more enjoyable and less messy. These poop bags are thick, leak-proof, and biodegradable. They use recycled materials in packaging and roll cores and unlike other poo bags, they are made with corn starch blend which more friendly to environment.
---
This product was recommended by Rousseau Vestal from Find The Aisle
Together with the best-rated dog poop bag rolls, Earth Rated dog poop bag dispensers make an excellent set. Your everyday walks will become more effective and pleasurable right away with this combination! Each package comes with 900 excellent pet waste bags. 60 rolls in total, each with 15 bio bags and a 100% leak-proof warranty. Because the little things matter, they employ recycled, environmentally friendly materials in our roll cores and packaging.
---
This product was recommended by Phillip Villegas from Three Pedal Mafia
Because they have received the compostable ASTM D6400 (USA) and EN13432 (EU) certifications, these dog waste bags are indeed environmentally friendly. Yes! These bags are 20 microns thick and 9×13 in size, allowing you to comfortably pick up your dog's waste. The 90-day decomposition time of MOKAI's pet waste bags helps maintain both landfills and oceans plastic-free. They genuinely care about the environment; they're not just using eco-friendly marketing to fool you.
---