This article showcases our top picks for the
Best Environmentally Friendly Kitchen Utensils
. We reached out to industry leaders and experts who have contributed the suggestions within this article (they have been credited for their contributions below). We are keen to hear your feedback on all of our content and our comment section is a moderated space to express your thoughts and feelings related (or not) to this article 
This list is in no particular order.
This product was recommended by Mimi Paul from Starkflow
These utensils are amazing and looks beautiful too. They are the first wooden ones I have had that are in the shape and size of normal utensils. The spatula is actually wide, so you can easily flip anything with it or make everything using these from omelettes to curry. Being wooden, they are environmentally friendly and toxins free so better for environment as well as for my family's health. Totally recommended.
---
This product was recommended by Aaron Rice from Stayyy
This set of cutlery is made from non-toxic, renewable, plant-based materials that are recyclable at the end of their life. It can also be composted before it breaks down completely. The Mozaik Eco-Friendly Plant-Based Compostable Cutlery Set is a great choice for people who want to make a difference while dining in style.
---
This product was recommended by Michael Jan Baldicana from Pyramid Credit Repair
The BAMBOODLERS Disposable Wooden Cutlery Set is made with sustainable wood and bamboo that are harvested in a responsible way. It's not only eco-friendly but also biodegradable and compostable.
---
This product was recommended by Timothy Woods from Carnivore Style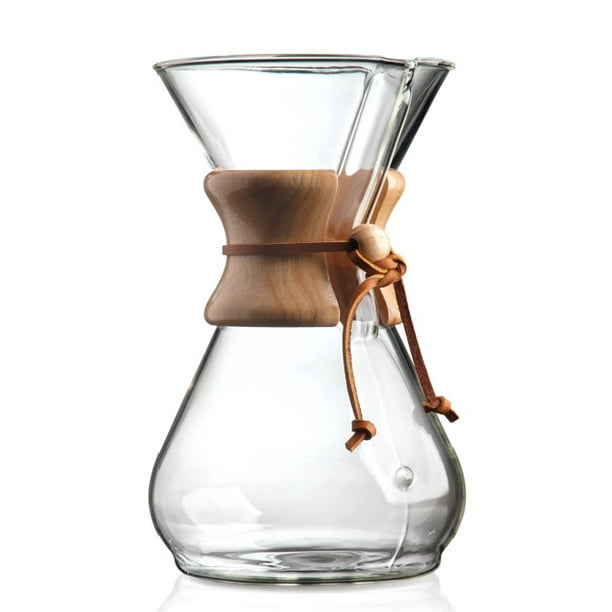 Unlike usual coffeemakers, this one's made of borosilicate glass and efficiently does not absorb any odor or chemicals from the surroundings which may lead to toxins in your coffee. It uses a paper filter to separate the coffee ground from your coffee. This filter can later be composted along with the coffee grounds. The process of brewing coffee is quite simple. You just pour hot water onto the coffee beans with a paper filter underneath. It saves you a lot on the electricity that a coffeemaker would've otherwise utilized.
---
This product was recommended by Christina Russo from The Kitchen Community
I was told by a friend and business partner that bamboo is a sustainable source of wood and can take a lot of punishment. As I'm quite heavy-handed in the kitchen, I need utensils that won't break or let me down, and this set was made from bamboo, and to stay the course, it's probably the most environmentally friendly set of utensils that I've ever stumbled across.
---
This product was recommended by Kenzo Kishita from Blades Power
I would recommend Rainforest Bowls Handmade Ebony Spoon as the best environmentally friendly kitchen utensil. They are handmade from ebony wood offcuts, so they are all-natural and eco-friendly. They are also biodegradable and reusable, so you can use them again and again without having to worry about adding to landfills. These spoons are great for smoothies, oats, vegan dishes—anything that needs a bit of spooning!
---
This product was recommended by James "Jimmy" Watts from Own The Grill
They're strong and durable and as they're made from bamboo they'll last long enough to become a family heirloom. And, as any eco-conscious cook knows, bamboo is the world's most replenishable source of hardwood, so if you do things the bamboo way, you really will be doing your part to help to save the planet and protect the future.
---
This product was recommended by Phillip Villegas from Three Pedal Mafia
Fruit and vegetable dehydrator made of food-grade PP, which is eco-friendly, non-toxic, and long lasting. The silt and vegetables on the insect can be removed by distributing the water exit evenly and gently spinning it. To eliminate any remaining moisture from the surface of fruits and vegetables, high-speed centrifugal dehydration is performed.
---
This product was recommended by Rousseau Vestal from Find The Aisle
Filter hole design, can effectively filter out water and oil, deep spoon design. Filter design allows you to filter soup, soup spoon, and filter function, making it very convenient to use. Tail hook design, simple to hang storage, uniform filter hole, easy to filter oil, filter residue, integrated design, can be hung in the kitchen corner.
---
This product was recommended by Fanny Surjana from Quenchlist
Best environmentally-friendly kitchen utensils because they are made of biodegradable and compostable materials. They can also be recycled, so you can feel good about using them without harming the environment. Furthermore, the long utensils make it easy to eat without making a mess, and the bamboo plates are sturdy and stylish. Finally, the set comes with a carrying case so you can easily take it with you on picnics or camping trips.
---
This product was recommended by Hannah Dworkin from USScrapYard
When you are an environmentalist, you will automatically look for products that are eco-friendly. And when it comes to kitchen utensils, I tend to steer away from any plastics of course. And this is why my kitchen utensils of choice are wooden. This 7-piece set from Mountain Wood offers the best kitchen utensils that are durable, sturdy, and most importantly environmental-friendly. Those are the kinds of utensils that you buy once in a lifetime. Unless you intentionally break one with brute force, it will last decades.
---
This product was recommended by Cindy Corpis from SearchPeopleFree
Heat and stain-resistant, as well as durable. Lightweight with a solid, comfortable grip. Non-stick cookware is safe to use. Hand washing is advised. Bamboo is a renewable resource, thus it's a good choice for the environment.
---
This product was recommended by Cindy Corpis from SearchPeopleFree
All you need in the kitchen is this collection of five bamboo utensils. These tools are made of eco-friendly, long-lasting bamboo and are ideal for working with non-stick surfaces. You won't have to worry about scratches when cooking because the robust material is non-abrasive. The handles are color-coded to make it easier to identify whatever utensil you're picking. A set that can be used by any cook in the kitchen.
---
This product was recommended by Steven Walker from Spylix
This glass reusable coffee cup is a terrific choice if you're looking for a reusable coffee cup that's a little more elegant than your average travel mug. Because of its size, it's an excellent alternative for requesting baristas to use it at a coffee shop instead of a disposable to-go cup. This design is free of plastic and includes a splash-proof cover.
---
This product was recommended by Emma Gordon from USSalvageYards
Kitchen essentials from Swan give you the best of both worlds, so you can create a space that really is the heart of the home. Swan Retro Slow Cooker has 3 different temperature settings, high, low, and auto, so you can cook a wide range of different dishes including chilli, casserole, curry, stew, soup, roast dinners, meat, vegetables and much more at your own pace. You can gently simmer your food over an extended period on low, or switch to high and cook in half the time
---
This product was recommended by Jason Cordes from CocoLoan
Bamboo kitchen spoons for cooking are planned and thoroughly examined by individuals who truly cook. Openings in handles for simplicity of hanging. The long handle keeps your hand securely away from the sizzle. After partaking in the cooking system, simply clean it with some warm and gentle foamy water in the sink and dry them with a perfect, dry towel.
---
This product was recommended by Jason Cordes from CocoLoan
The 12-Piece Kitchen Serving Utensils Set Incorporates: Opened Spoon; Opened Turner; Adaptable Turner; Scoop; Spaghetti Waiter; Spoonula; Little and Enormous Spatula; Seasoning Brush; Whisk; Broiler/Grill Glove; Tong. Brilliant Set- These kitchen gadgets are made to go the duration; Each apparatus is made of fouling restraint, non-harmful, top-notch silicone. BPA Free, Environment friendly.
---
This product was recommended by Stella Cooper from PaydayLoansUK
WoodAble kitchen utensils are durable, smooth, splinter-free, and functional. Each product is turbo polished for 4-6 hours for a comfortable experience. WoodAbles are FSC certified disposable wooden utensils and truly sustainable. The utensils are finely made from high-quality wood. Moreover, WoodAbles plants 4-trees for every 3-harvests to make nature safe for the future generation. The utensils package contains disposable 40 wooden forks, 40 spoons, and 20knive sets. Wordable products are biodegradable, compostable, and recyclable.
---