This article showcases our top picks for the
Best Environmentally Friendly Notebook
. We reached out to industry leaders and experts who have contributed the suggestions within this article (they have been credited for their contributions below). We are keen to hear your feedback on all of our content and our comment section is a moderated space to express your thoughts and feelings related (or not) to this article 
This list is in no particular order.
This product was recommended by Madilyn Hill from TruePersonFinder Inc.
The Emerging green 3set spiral journal is made of recycled post-consumer paper. This earth-conscious notebook uses sustainable materials to preserve the earth for future generations and reduce its carbon footprint. Emerging green are crafted with 80gsm thick recycled paper so you can write conveniently without any ink smears while writing. The back and front cover of this notebook is secured with sturdy compostable kraft paper. It contains 200 pages in mint condition and a customizable front cover to show your creativity.
---
This product was recommended by Sudhir Khatwani from The Money Mongers
You don't have to get expensive notebooks, especially not when you have to go through a handful of handbooks. I've been using the Northbooks line of notebooks for three years now. They're affordable, but high quality at the same time. Crucially, they're environmentally friendly because the raw materials are sourced sustainably, with lots of it recycled paper.
---
This product was recommended by Robin Roy Krigslund-Hansen from Formula Swiss
My recommendation is this sturdy little notebook, with a funny rhino on the front of the hardback cover. Made from 100% recycled paper that is smooth – so often recycled paper is rough and bobbly – a good quality notebook for jotting things down, writing notes, and plus easy to tear out pages. It's stationery that also supports the Save the Rhino charity, all the details of the rhinos and charity are on the back cover. A very good cause, and I'd highly recommend it.
---
This product was recommended by Amy Barber from epromos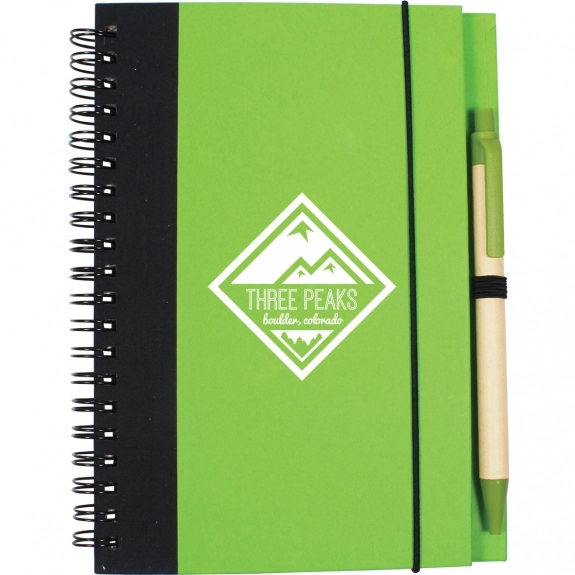 Jot down your most important notes in an environmentally responsible way with this notebook made from recycled paper. The cover is made of 80% post-consumer recycled materials and the metal spiral binding is made of 90% post-consumer recycled materials. Includes 70 sheets of lined notebook paper, an elastic pen loop with matching pen, and an elastic cord closure that doubles as a page marker. All this plus five great color options and your own personalized message added to the front cover and/or black ink pen.
---
This product was recommended by Amy Barber from epromos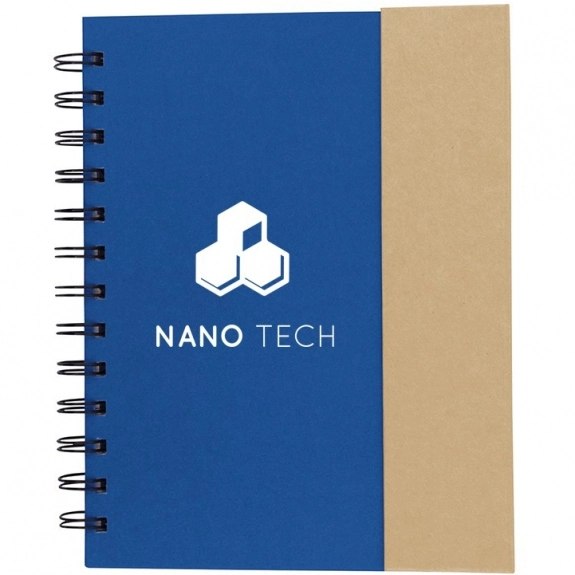 This eco-friendly chipboard wire-bound notebook has a magnetic flap closure, 70 lined sheets of recycled paper, assorted sticky flags, two sticky pad, and a pen in a pen loop. The lined paper is made of 100% pre-consumer recycled paper and the pen is made of recycled material as well. Choose from five attractive colors and add your custom message to the front cover for the perfect finishing touch.
---
This product was recommended by Nikita Verma from PurpleCrest Management Consulting
No more wasting paper – this environmentally-friendly 32 page dotted grid notebook can be used endlessly by wiping clean with a damp cloth. Rocketbook Notebook can help bridge the gap between paper notebooks and digital storage as it offers unique app integration. From its cover to its pages, this Rocketbook notebook values sustainability.. These notebooks can be written and drawn in. Once the notebook is full, you simply use the Rocketbook app on your phone to capture and store each page digitally in any storage system (Google Drive, Dropbox, Evernote, OneNote, Slack, iCloud, and more). Afterward, you simply wipe the notebook clean with the microfiber cloth provided. Using Rocketbook's AI technology, you can use smart titles, smart search, and email transcription so that you can easily name, search, and later find your stored notes. Rocketbook comes with a letter Size of 8.5 x 11, with 1 Pilot Frixion Pen & 1 Microfiber Cloth that rolls on smoothly.
---
This product was recommended by Macgyver Ng from Emerging Green
It is made of FSC certified recycled paper and comes in non plastic packaging. Every set has 3 notebooks, with each notebook having 200 pages. This can easily last most people for more than 1 year.
---
This product was recommended by Linda G Thompson from Notta.ai
Here's a confession. I'm addicted to reusable notebooks, and Rocketbook provides the best of them. I've had more than ten Rocketbooks in the past two years, not because I keep filling them up(you really can't) but because they're simply fascinating. Rocketbooks feel like something out of a sci-fi movie, and they play the role in every sense. Rocketbooks are more sustainable compared to other notebook brands because one doesn't need two of them. You just need one notebook, the refillable pens, and phone to scan your notes onto a cloud folder, before you wipe the page clean using the provided micro-fibre cloth. Works like magic, all the time!
---
This product was recommended by Jason Cordes from CocoLoan
The Paperage Recycled Notebook has a textured recycled paper cover available in seven colors. The thread-bound, 180-degree lay-flat binding opens completely when writing or reading and closes flat when closed. You may customize your notebook with a ribbon bookmark, elastic band closure, expanded inner pocket, and sticker labels.
---
This product was recommended by Jason Cordes from CocoLoan
The Roaring Spring BioBased Environotes Notebook features 120 sheets of perforated and 3-hole-punched 9 x 11-inch college-ruled paper. A double pocket is included in the notebook, which comes in four earth-tone colors. But that's where the tradition comes to an end. This notebook is also available in one-, two-, three-, and five-subject versions, with 80, 100, and 160-sheet dividers between sections. A 9.5 x 6-inch one-subject notebook is also available if you want a more compact notebook.
---
This product was recommended by Jason Cordes from CocoLoan
Ciak is an Italian paper company that makes eco-friendly notebooks by hand for students, tourists, and businesses. The journals have a horizontal elastic closure and are available in various colors. The notebooks come with a ribbon bookmark. Ciak recycled paper is acquired from a recognized and verified manufacturing partner, Favini Mills. The production procedure of this eco-friendly notebook brand is environmentally friendly and runs on renewable energy. Acids and hazardous compounds are not present in the notebooks.
---
This product was recommended by Steven Walker from Spylix
A Good Company created the first-ever climate-positive notebook. So it's hard to imagine more eco-friendly notebooks now! These eco-friendly notebooks include no hazardous chemicals (any printing is done with non-toxic soy ink) or wood pulp. It is produced from repurposed stones and construction detritus collected from manufacturers and contractors. Stone pages are better for both the user and the environment. No bleed-through, no damaged pages. So silky soft to write on!
---
This product was recommended by Steven Walker from Spylix
United By Blue's recycled paper diaries are a great way to take notes while helping the earth. The covers are made of fun, sustainable cotton canvas, and the paper is 100% recycled FSC certified. It is a B Corporation, which means it must meet strict third-party social and environmental sustainability requirements. For every purchase of these eco-friendly notebooks, the company will remove one pound of pollution from the oceans and waterways.
---
This product was recommended by Cindy Corpis from SearchPeopleFree
Optik Paper is a quality brilliant white paper that eliminates ink bleeding. The capacity to compose on both ends of each page increases the amount of space available. – The A5 journal has a maximum of 142 note-taking sheets. The embossed matte black flex covering journal has a polished appearance for the professional. Stitched bindings provide a smooth spine that allows the journal to be effortlessly slipped into a suitcase or handbag. While open, it lays flat. Numbered sheets, empty calendar headers on every sheet, an expandable pocket for stray papers, and a bungee clasp are all included in this journal.
---
This product was recommended by Cindy Corpis from SearchPeopleFree
Within this hardback notebook are 90 fresh sheets of recycled paper.The papers are pleated and fastened with the plain sides facing out for handwriting and the reference picture sides facing in for a peekaboo surprise. This diary is a wonderful delight in the touch, with a silky screen covering and a fabric spine. Anybody who likes journaling will enjoy this diary.
---
This product was recommended by Emma Gordon from USSalvageYards
If you're searching for a notebook that helps the environment, go no further than this one from Northbooks, which partners with Eden Projects to plant a tree after you purchase it. This notebook's paper is both responsibly sourced and Forest Stewardship Council certified. This notebook includes a silky green cover and cream pages with a nice, basic design, giving you a lovely place to work. The book comes with either lined or blank pages, and it is 5.2 by 8.2 inches, making it easy to fit in any tote or on your desk.
---
This product was recommended by Clyde Steuber from Independant Fashion Bloggers
Paper is a renewable resource that can be recycled over and over again. There are many different types of paper out there that have their own unique properties. Some papers are great for writing while others are better suited for drawing or coloring. If you want to make sure your notebook doesn't end up in the landfill after you're done using it, then you should choose a paper that has been certified as environmentally friendly.
---
This product was recommended by Mike Baldicana from Kostex Garage Repair
If you are looking for a notebook that looks good and has a really good price, then this is the one for you. The notebook is made of recycled paper that is high-quality and durable. It also features a hardcover with a lay flat design so it's easy to take notes in class or on the go.
---
This product was recommended by Clyde Steuber from Independant Fashion Bloggers
Hemp paper is becoming increasingly popular due to its versatility. This type of paper can be used for a variety of purposes including journaling, sketching, painting, and even letter writing. You can find hemp paper at local art supply stores, online retailers, and even some office supply stores.
---
This product was recommended by Kimberly Silva from FindPeopleFirst
It is a stylish notebook with eco-friendly features. Easy to write, and the product is not tested on animals. This book ensures efficient writing due to the acid-free nature of the paper. Recyclable and pollution-free manufactured with vegan ingredients. Smoother textures encourage the pen to flow on it uninterruptedly.
---
This product was recommended by Oliver James from VeganFocused
I really like the Rocketbook Fusion because it gives me that pen-to-paper feel, unlike my iPad and Apple Pencil, while still being reusable! Plus, it's scannable to so many platforms. My only gripe is that the cut of the page quality isn't perfect.
---
This product was recommended by Shiv Gupta from Incrementors
The Paper Saver Eco-Friendly Notebook is a one-of-a-kind notebook that allows you to reuse waste paper as pages, extending the life of your used paper. It contains a ribbon bookmark and an elastic closure band for rapid access to a specific page. Without the need for clips, staples, or glue, you may reuse the blank sides of your used paper as pages of this notebook thanks to the robust sleeve design. As a result, there will be less waste and more savings! It'll last for years because it's made of premium scratch-resistant imitation leather.
---
This product was recommended by Daniel G. Leone from NJ Law Results
I bought these notebooks for my office to use because we recently ran an initiative to become more aware of the impact we have on the environment. Even the ink is recycled on the pages of these notebooks, and they are such great quality! It is rare to find notebooks that are 100% recycled, and effective, but Mintara hit both of these briefs very well. The hardcover is durable and protects the pages well, and my company has been using the notebooks for a few months now, showing how good these environmentally friendly products are.
---