Dealing with Coronavirus emotionally is difficult as it is, but going through it alone and isolated from the world can be especially traumatic. On the one hand, you have to worry about the uncertain financial situation ahead, and on the other hand, you fear for your health and safety.
It is not unreasonable to assume that being stuck at home alone exaggerates problems and contributes to the feeling of loneliness. With no one to hear your thoughts and comfort you, negativity can take over.
While the COVID-19 pandemic is hurting everyone emotionally, it is incredibly hard for single mothers. Cheryl, a 26-year-old single mom, said that being a single parent, she can get lonely during quarantine because the whole support system she had has fallen apart.
Unlike households with two parents, single moms don't have an adult in their home; during quarantine, they are missing adult conversations and a support system to rely on so they can catch a break, among other things.
Loneliness amplifies depression and anxiety. Therefore, single moms must learn a few coping strategies to handle isolation and come out of this pandemic stronger than ever before.
To help you with the feeling of loneliness, we have jotted down a list of things you can do if you are quarantined alone.
Create a Schedule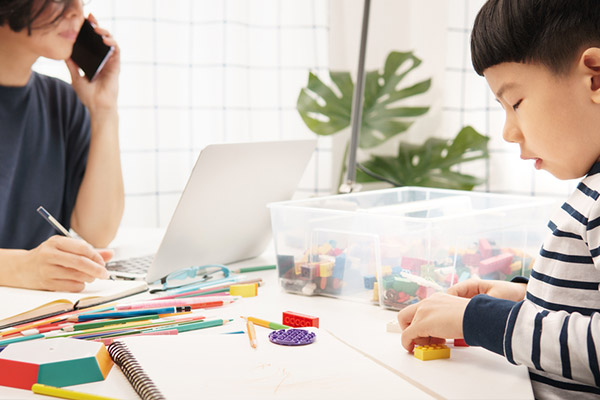 Because of the pandemic, it is hard to tell weekdays apart from weekends. As one-day blends into the other, we lose all sense of a routine or structure. That's the worst mistake you can make!
Create a healthy schedule and stick to it. Plan out when:
You are going to spend time with your child,
When you are going to connect to family,
What's your me-time, and
When do you want to schedule your chores?
It not only keeps your tasks separate, but it also gives a sense of accomplishment.
Focus on Work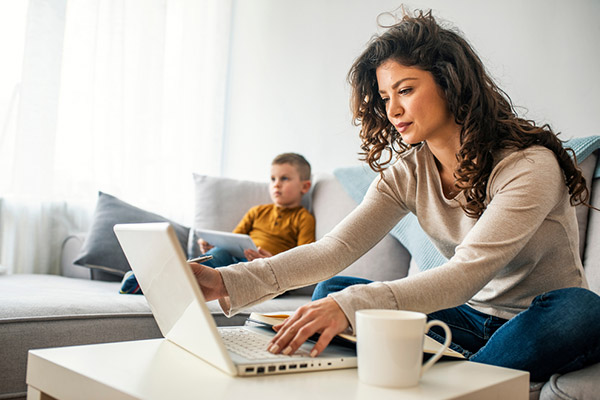 If you have a job, consider yourself lucky because a lot of people don't have this privilege anymore, thanks to layoffs worldwide. You may not be as productive as you were before the outbreak started, but it's essential to focus on your work to give a break to negative thoughts.
A regular work schedule will bring some normalcy to your daily routine; it will help you catch up with your co-workers, and it may abate your feelings of isolation.
Create Opportunities to Socialize
Have nothing to look forward to at the end of the day? Make plans! Even if it's something as small as watching a movie with your kids, having an online Netflix party with your family, or cooking with a friend on FaceTime.
Not just that, you can play games with your friends such as PUBG, Ludo Star, QuizUp that have gained popularity during this quarantine period. Remaining connected with your friends and family will decrease your loneliness and assure you that you are not in this alone!
Start a DIY Project at Home
This is the time to get creative, ladies! Pick up a new hobby, check out easy do-it-yourself projects to do at your home and involve your kid(s) as well. Getting your home or room look changed or enhanced will go a long way as you isolate there.
You don't have to go all out and transform your home, but something as small as painting your wall or some furniture can be therapeutic.
Crafts with Kids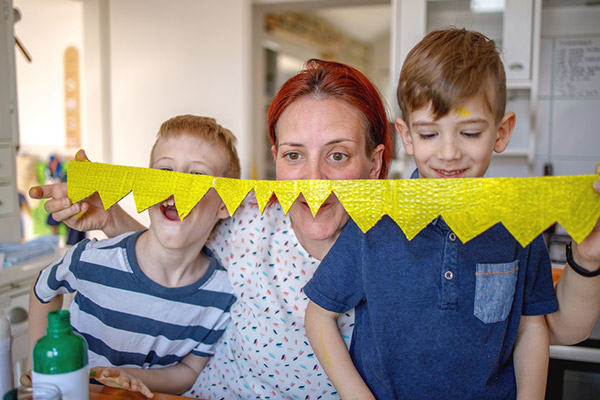 We often wish we had more time to indulge in fun activities with our kids, don't we? This is the perfect chance! Bond with your children over fun craft activities. Family activities create a better mood and refresh you and the kids as well. So, don't wait anymore and start now!
Work on Personal Growth
Did you want to learn a new skill but didn't get a chance to take out time? Well, now, you have plenty! Stop procrastinating and pick up that tool, that paintbrush, that pen, that book, that needle, whatever you like, and get started.
If you are looking to learn some creative skills online, a lot of platforms are offering free courses online during this pandemic, including Harvard University, MOZ, Preply Tutors, and Udemy, etc. You surely can't miss that!
Clean, Organize
Now maybe a good time to clean that drawer you never got a chance to clean or organize that closet. Give your house a good spring cleaning, wipe down the shelves, organize the cabinets, and work on the maintenance of your home.
Along with helping you remain occupied, cleaning is also great for keeping your home free of the Coronavirus. Many professional cleaning services are posting tips and tricks of cleaning and disinfecting homes properly. Carpet Cleaning Dartford has some handy tips on its blog, read up, and clean away!
Home Workout
A light workout can do wonders to boost your spirit! Do you know that exercise makes your brain produce serotonin, the happy hormone? That's right, a lite jog in the morning or a 15 min workout in the evening will keep you healthy and sane.
Cook Meals Together
Cooking is fun but cooking with your kids? Matchless! Now they may be little, but they can undoubtedly pass you that plate, retrieve food items from the fridge, and mix the batter. Cooking with your children not only keeps them engaged, it makes you really happy too.
Seek Professional Help if Need be
We admit that 2020 is turning out worse than expected. News of new deaths and the lack of a vaccine is causing anxiety and depression around the globe. If you feel that your mental health is affected by this situation, it is completely ok to take a step back and reach out for help.
Many certified and licensed psychiatrists are offering online counseling sessions to help people cope with this uncertain and horrifying situation. Remember, there is no shame in seeking help!
Conclusion
To wrap it up, I just want to assure all single moms that you are not alone in this. It may be terrifying right now, but you will make it out of it stronger than ever before. The important thing right now is to stay safe and stay connected with your loved ones, those who make life worthwhile.
Have anything to add to the story? How are you coping with quarantine? Let us know in the comments below!
Author Bio
Shaheryar provides ghostwriting and copywriting services. His educational background in the technical field and business studies helps him in tackling topics ranging from career and business productivity to web development and digital marketing. He occasionally writes articles for Carpet Cleaning Dartford.