This article showcases our top picks for the
Best Environmentally Friendly Candles
. We reached out to industry leaders and experts who have contributed the suggestions within this article (they have been credited for their contributions below). We are keen to hear your feedback on all of our content and our comment section is a moderated space to express your thoughts and feelings related (or not) to this article 
This list is in no particular order.
This product was recommended by Kamila Flieger from Green Snooze
Hemlock coconut candles are a great eco-friendly option for those looking for a clean-burning candle. The candles are made with organic coconut wax and use a crackling wood wick, which makes for a cozy sound. They come in recyclable glass jars and have a variety of fragrances to choose from, all of which are plant-based and use essential oils. These candles will burn for hours and still smell great. Not only are they eco-friendly, but they're also affordable and easy to find. So if you're looking for a clean-burning candle that won't break the bank, look no further than Hemlock!
---
This product was recommended by Helen Armstrong from APSLEY Australia
I also like that this company makes its candles in the USA focusing on using recycled and upcycled materials. Paddywax candles are available in a variety of sizes and scents so that you can find the perfect candle for your needs.
---
This product was recommended by Stefanie Maz from FindingFavourites
The Citrus Candle La' F.E.M. is the best eco-friendly candle because it is made of natural essential oils, is a soy and coconut blend, and does not contain any synthetic fragrances or chemicals. The candle is also hand-poured, which makes it more environmentally friendly than mass-produced candles. In addition, the company that makes the candle donates a portion of its profits to women's empowerment programs, so you can feel good about supporting a woman-owned business when you purchase this candle. Finally, the candles are paraben, phthalate, and sulfate-free, and are never tested on animals. Oh, and they have an awesome 40-hour burn time and most importantly, smell incredible!
---
This product was recommended by Lauren Smithson from Blink
Chase and Wonder's range of luxury scented candles are environmentally friendly because: – They use a sustainably sourced eco soy wax in the canldes, as opposed to paraffin used by many well-known candle brands. – The ceramic candles are made in the UK, with a small carbon foot print (travel miles) – The ceramic candles are designed to be kept for a lifetime, with refills available, as well as it being possible for the china to be reused as a plant pot, pen holder etc.
---
This product was recommended by Michael Jan Baldicana from Dream Chasers
These citronella candles are made with naturally biodegradable soy wax and high citronella oil and free from paraffin and paraben. The wicks are made from lead-free cotton fiber so it burns steady and soot-free. The candles are also vegan and cruelty-free so you could use them with peace of mind.
---
This product was recommended by Deepanshu Bedi from Exhalewell
Simper Goods is a U.S.-based candle company that manufactures nontoxic soy candles produced in small batches and sold in recyclable glass jars. Some of their creative scents include Coconut Milk and Spice, Mountain Air and Cloudberries, and Morning Mocha and Cinnamon.
---
This product was recommended by Deepanshu Bedi from Exhalewell
Hyggelites offers vegan candles that are sold in reusable ceramic pots. Their candles are made of 100% soy wax and are free from additives, colorants, lead, phthalates, and other toxins.
---
This product was recommended by Deepanshu Bedi from Exhalewell
Sanari Candles produce hand-poured vegan coconut wax candles with organic essentials oil that are sold in reusable wine glasses and whiskey tumblers. Their candle wick is also made from 100% unbleached cotton. Their scents include Biscotti, Crema Buca, and Sorbetto.
---
This product was recommended by Rita Farruggia from Happy Being Well
Introducing Mrs. Meyer's Scented Soy Tin Candle, the perfect way to enjoy the beautiful blend of floral, herbal, and garden-inspired scents! Made with essential oils, plant-derived soy wax, and other thoughtfully chosen ingredients, this soy candle offers a long-lasting fragrance for up to twelve hours. It's also cruelty-free so you can feel good about letting it burn without causing harm to an animal.
---
This product was recommended by Karim Jaffer from Dehumidifier Depot
Sometimes you just need a little pick-me-up, and what better than some candles? TheMrsMeyer's Clean Day Lemon Verbena Candle will have your room smelling fresh from the nozzle of this cute recyclable glass jar. With ingredients like vegetable waxes combined with other thoughtfully chosen scents to create an unforgettable aroma that fills any space in record time! A must-try for anyone who loves clean smells or gifts they can give their favorite people on all occasions.
---
This product was recommended by Karim Jaffer from Dehumidifier Depot
Looking for a highly scented candle that can eliminate strong odors quickly? Look no further than the Lavender Odor Eliminating Highly Fragranced Candle! Made with natural lavender oil, this candle is specially formulated to eliminate up to 95% of pet, smoke, food, and other strong smells. It also has an impressive burn time of up to 80 hours, so you can enjoy its fresh, floral scent for weeks.
---
This product was recommended by Rob Greene from Price of Meat
Why? Like all of Nika's candles, it's made from one hundred percent soy wax with a wick made from natural fibers. That means it'll burn long and strong and won't do any damage whatsoever to our already fragile ecosystem.. And when it's lit, it really does smell like home-baked muffins, and who doesn't go crazy for that intoxicating and alluring aroma?
---
This product was recommended by Kamil Kowalski from LimakWay Remodeling
Mia's Co Grapefruit Scented Candle is a 7.5 oz candle and comes in a minimalist design. The soy wax is made from natural soy beans, and the cotton wicks are 100% cotton. This candle is perfect for any room in your house or office, and it can be used as an aromatherapy candle to help you relax.
---
This product was recommended by Brett White from Addicted to Veggies
Hyggelight has created a fantastic candle with recycling in mind, they call it the Growing Candle and it is designed so you don't have to throw out an empty candle container after use. Once the wax has burned down, the Growing Candle comes with wildflower seeds and planting instructions, and you can use the pot as a small wildflower garden helping the local environment and pollinators.
---
This product was recommended by Jim Campbell from Honeymoon Goals
The best sustainably sourced alternative to wax has to be its namesake, beeswax, and DEYBBY does some amazing environmentally friendly beeswax candles. I often pick up the Pure Beeswax Votive Candles for my house, they are made from 100% beeswax and the wick is made from pure cotton for a clean burn. They are a perfect alternative to candles that look brilliant in any room.
---
This product was recommended by Alexa Justine Callada from Stayyy
The Calyan Wax Soy Wax Candle, Lavender & Bergamot Scented Candle is a 100% soy wax candle with a lavender and bergamot scent. It is hand-poured, eco-friendly and long lasting for up to 30 hours. The candle burns clean and does not leave behind any soot or smoke. This Calyan Soy Wax is derived from the highest quality soybeans grown in the USA. The candles are made with 100% cotton wicks and are lead-free. This soy wax candle has a calming lavender and bergamot scent that will make your home feel like it's been transported to the Mediterranean. The Calyan Wax Candle comes in three sizes: 3 oz, 6 oz, and 12 oz.
---
This product was recommended by Leslie Radka from GreatPeopleSearch
These are also one of the best and most useful candles all over the world. The best thing about this candle is that it has the facility of hand pouring that you can easily clean it after it burns down. Along with this, these have wide cotton wicks and are scented with certified original essential oils and beneficially come in 11 different scents.
---
This product was recommended by Kate De Palma from Scented Designs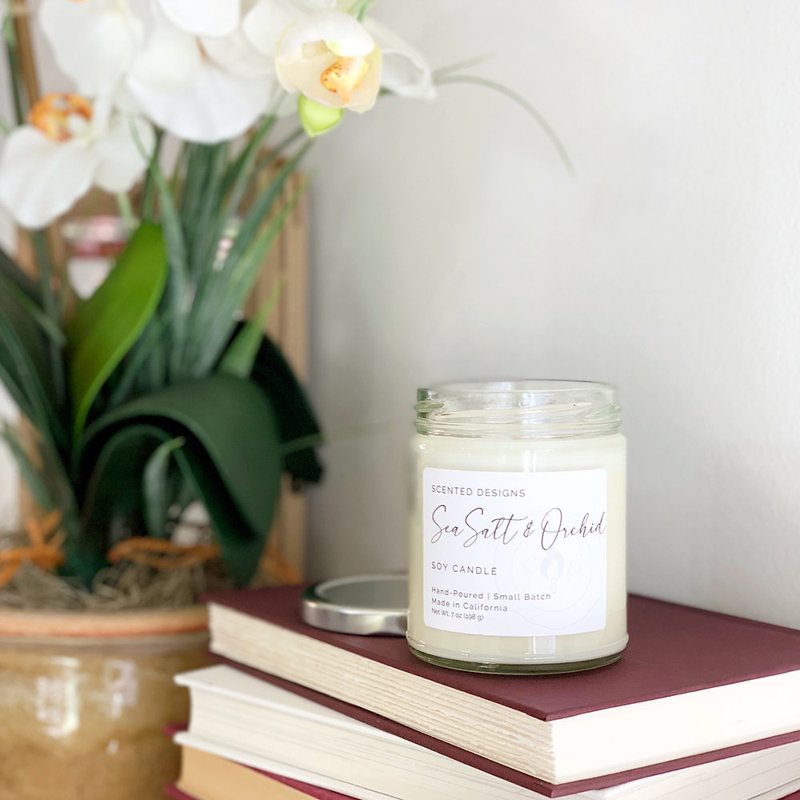 Scented Designs candles are hand-poured in the USA with American-grown soy wax, a plant-based, biodegradable wax that does not emit carcinogens when burned. Made with phthalate-free fragrances oils and infused with essential oils, each candle burns clean, long, and strong with a cotton wick. Candle packaging is minimal and plastic-free, and 90% of materials used for shipping are reused from previous sources to help cut down on packaging waste. Each candle purchase also supports the fight against climate change through partnership with 1% for the Planet.
---
This product was recommended by Louis Russell from Kuhamia
Organic product-based candles are the most environmentally friendly. One such recommendation is from the brand JXDLSQ. These candles are made from nature-protecting soya wax and are ideal for giving housewarming and birthday gifts. The box of 4 candles contains different fragrances, including spring, lemon, lavender, and fig. These candles are ideal for environment conservation and nature lovers.
---
This product was recommended by Lauren Yang Brown from Made Trade
These beeswax taper candles not only consist of the highest grade USA beeswax, but the creation of these candles helps support local bee farmers who colonize and encourage bee reproduction in the United States! Plus its cotton wick, 100% beeswax content, and lack of any additional scents or perfumes ensure a clean burn while purifying the air.
---
This product was recommended by Bridget Nocera from Push The Envelope PR
Hypnotizing Fire is a seductive fragrance that nurtures the wearer like a gentle flame. The mellow sensuality of Madagascan vanilla and Benzoin is enriched by the subtle notes Bulgarian rose, Indonesian patchouli and pimento berries harvested under the Jamaican sun. Warm and glowing, it's an enchanting Yin scent that revives and restores.
---
This product was recommended by Lorie Carson from Real People Finder
When the flame hits the clip, the elf extinguishes. This 50-hour candle beehive burns. Made entirely from beeswax. A metal stand with a unique mold in the form of a beehive
---