We all know the struggle of trawling through shops to find the best swimsuit for this summer. While fun at first, it's quickly become a frustrating experience to go through each summer – there are so many options that just don't work. But for you, we've done all the hard work. There are exciting new brands that want to help you find the best swimsuit, with all the right sizes for every shape. Make your summer one to remember by refreshing your swimsuit!
#1
Classic Black Byoot Swimsuit
It can be difficult to find a cute on-trend style that fits varying needs, including women who struggle with age appropriateness, those who don't want to wear a bikini, or those who struggle with the traditional one-piece styles in terms of struggling to take it off when it's soaking wet to quickly pee in between water activities.
Patti + Ricky, an ecommerce shopping experience featuring designers who create fashion and accessories for men, women and children features one-piece swimsuits that fix all of the traditional one-piece problems, by providing a one-piece that unbuttons on each side of the hip region to allow ladies to cleanly lift up the section of swimsuit needed for the lady's room—so simple and so stylish, eliminating the need to take off the entire suit!
#2
Deep V Striped One Piece By Lenny Niemeyer
The Lenny Niemeyer Resort Collection swimwear is ignited by color, culture and texture. From chic hardware to innovative styling and luxurious details, this couture swimwear collection from Lenny is irresistible. Available at The Perfect Provenance, the Lycra Ray Amora One Piece By Lenny Niemeyer is made with a luxuriously smooth fabric and features an exclusive print.
#3
Neon Lemon Asymmetric Cutout One-Piece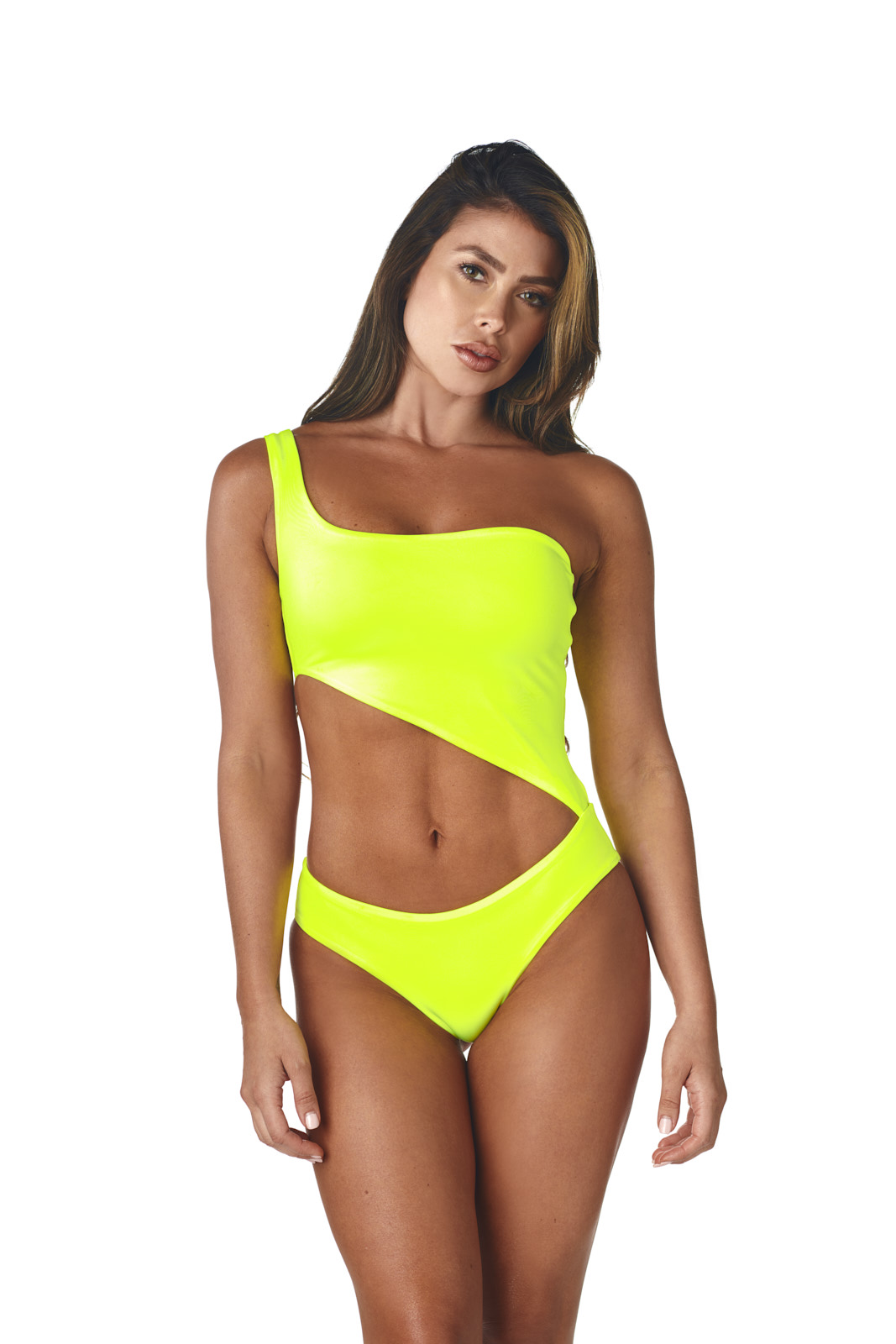 Shopping our brand is not just shopping for a product, its shopping for an experience. From the moment your package arrives, the unboxing story unfolds. All of our premium fabric is imported from Italy. Our signature detailing is rose gold plated, embellished on all of our suits, your will find our S icon plaque which represents the story of 2 women coming together, empowering one another – iit stands for all of our goddesses out there. Syrena means mermaid in spanish (correctly spelled Sirena).
#4
Bfyne Ashir
Bfyne Swim is one of my favorite swimwear companies because it is one of a kind. It really revolutionized the way we see African fashion and swimwear. Bfyne Has made swimwear as much of a fashion statement as it is functional.. From their swimwear to their cover-ups to their scarfs to their jewelry – you can get all of your swimwear needs & Wants from Bfyne.
#5
Kendall Rib Suit Onyx
This swim brand covers all of the bases. They have classic cuts and fits that are perfect no matter your size. They carry sizes from small all the way to XXL. Outside of being size inclusive they are also eco-friendly. The two-pieces are created with a sustainable techno-fabric.
#6
Signature Logo Swimsuit
Branëu is freshly launched. That's what really gives it such appeal-their styles aren't over worn or saturated. It is an up-and-coming luxury swimwear line. They launched the summer of 2019 with two staple classic-colored black and white one-pieces. They will be releasing there two pieces in a few weeks so stay tuned for the exclusive release.
#7
Tropical Sunset Activewear Capris
Breathe™ is a new generation of apparel for women. Breathe™ products are well designed and customer friendly, allowing the wearer to conveniently and comfortably improve their sporting experience. The products can be used for everyday wear, indoor, outdoor or beach sport. Instantaneously, wearers of Breathe™ will be able to confidently stretch without having to think about embarrassing situations such as the dreaded "nip slip"! The Breathe™ patent, is proven technology that is convenient to wear and affordable.
#8
The Original Beefcake Swimwear
Beefcake Swimwear is one-piece androgynous swimsuit line inspired by 1920's style. Also, it's one of the most size inclusive brands, serving sizes that range from XS to 5X. They use eco-friendly and ethical practices to make their swimsuits in the USA. Founded and led by Mel Wells since 2016.
#9
Zoe- Hot Coral Curvykini
Curvykini is one of my favorite plus size swimsuit companies. Made in right in New York City, Curvykini is a luxury swimsuit made to fit a budget. I've worn two different suits and they are the perfect stand out swimsuit for your next pool party. Ranging in size from 0x – 3x these suits have a contemporary sexy yet lux feel that can't be beat by other brands in the market. You shouldn't have to sacrifice comfort for style and with suits by Curvykini you don't have to.
#10
One Of My Kind Saint Somebody
Designed in Australia and ethically made in Bali, Saint Somebody is a female-founded brand that specializes in premium-quality, seamless swimwear. With timeless designs, classic colors and modern cuts, Saint Somebody fills a niche in sizing and captures the interest of women sizes U.S. 8-16 who yearn for a comfortable, confident fit in swim while staying on trend. Instead of simply adding or cutting fabric to extend sizing, Saint Somebody designs each piece of swimwear with the body's natural curves in mind to ensure a perfect fit.
#11
Pretty In Paradise Swimsuits
Cosmo Crew Kids is the newest children's, eco-conscious swimwear brand making a splash in the U.S. this season. This Australia-born brand features a line of fun & unique kids' swimwear and cold climate base layers made completely of sustainable materials in Bali. Cosmo Crew threads are comfortable, durable, long-lasting and designed to let individuality flow. To add another bonus – all products provide UPF 50+ sun protection and are resistant to chlorine, sand, sunscreens and oils.
#12
Period Swimwear Off The Shoulder | French Riviera
Ruby Love offers swimwear in inclusive sizing from XS to 3XL, with styles includes one pieces, two piece bikinis and bikini bottoms available for purchase separately. Each of Ruby Wear's one pieces and bikini bottoms includes the brand's intuitive technology featuring a discreet, built-in absorbent organic cotton liner that offers maximum absorption and protection against leaks and stains so a period day can be a beach day.
Not only are Ruby Love's swim styles functional, but they feature on-trend designs like bright colors, prints and stripes and off-the-shoulder details, ruffles and racer-back cuts. See below for some key styles!
---
The recommendations of products and books within this article where sourced from industry experts. Their names and websites are listed below.
Who contributed to this article?