Being a stay-at-home mum means that you are super-blessed to spend quality time with your kids and be there whenever they may need you. But as sweet as that sounds, it doesn't mean that it will always be a breeze. Chances are higher for a stay-at-home mum to develop burn-out, lose their sense of purpose and motivation, lose income streams, and develop a lost sense of time.
If such feelings aren't resolved within good time, they could easily develop more intense feelings of worthlessness and emotional overload. If you ever find yourself experiencing the symptoms below, especially the first four, it may be important to talk to a friend or a therapist.
A sense of worthlessness at not being able to contribute to the family income.
Not knowing who you are anymore.
Feeling underappreciated.
Feeling emotionally overwhelmed and irritable.
No longer seeing the value of time.
This article will deal with the last point: to take back control of your time as a stay-at-home mum.
Why Do Stay-at-Home Mums Feel a Lost Sense of Time?
For stay-at-home mums, the biggest problem revolves around that never-ending routine of cleaning, cooking, packing laundry, changing diapers, going to the store, and repeating all that the next day. This seemingly endless cycle can be a bit more manageable with one or two kids or kids who are grown and going to school. However, throw in one or two toddlers in this mix, and very quickly, post-partum depression can morph into stay-at-home-mum depression.
Every human being has that innate urge to tie personal achievement to time utility. For stay-at-home mums who have to give every ounce of service to their families, little to no time may be left for personal development. So it isn't hard to see why the iteration of cooking-cleaning-wiping poop-shopping-sleeping-repeating can easily lead to time-depressiveness.
This isn't to suggest that stay-at-home mums cannot do anything productive with their time beyond taking care of their families. Contrary to that opinion, stay-at-home mums have become some of the most successful authors, teachers, writers, and entrepreneurs of our time. J.K. Rowling is a prime example of the willpower of a single, unemployed, stay-at-home mom who can transform to the right motivation.
Harnessing Time as a Stay-at-Home Mum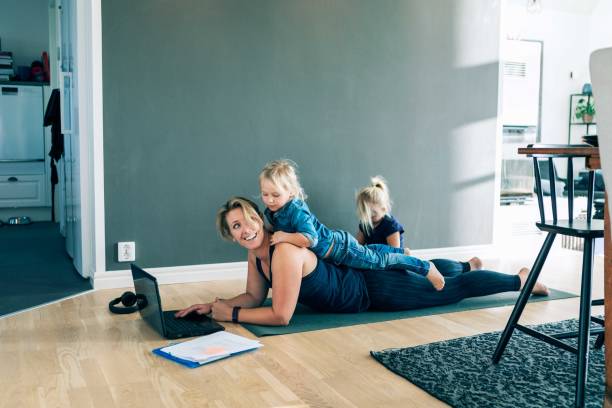 There is good news! You can take back control of your time and feel even more productive and accomplished at the end of each day, thanks to the tips provided in this article.
1. Set Goals for Your Home
Your home as a stay-at-home mum should be your office and your place of solace and comfort. Like you wouldn't be happy working in an office without a schedule or without specific guidelines that control employees' behavior, so too is your home.
Speak to your spouse and children about what activities should be done on what days and what places inside or outside the house. This gives you a better sense of control over what is happening within the home, and as a result, you will be happier and have a better sense of your time.
Goals that you set for the home could be, for example, no laundry or floor cleaning on certain days, certain meals on certain days, no TV on certain evenings, etc. The effect of this will be to free up more time on your schedule that you can channel elsewhere.
2. Involve Your Spouse in Your Plans
If you are a stay-at-home mum living with a spouse, none of your plans may work if your spouse doesn't support you. Kids will listen better if both parents are involved in decisions that affect them. Here are some tips for being a good parent.
Talk to your spouse and let them know that you need time for your personal development. Share the changes that you feel may be necessary for you to accomplish this. That could pertain to any rules regarding cleaning, shopping, taking the kids to school, etc. If your spouse adjusts their schedule even slightly to accommodate some more time for you, it could mean a big translation to your schedule.
3. Get Help If You Must
A student who is overwhelmed with work and study can get assistance from an essay helper. Likewise, as a stay-at-home mum, you should also get help too if you feel too overwhelmed or desire a change to your routine. This may mean a temporary but affordable nanny, help from a friend, or your extended family.
4. An Old or a New Hobby or Passion Works Wonders
With some adjustments to your schedule, you may now have some extra time on your hands. Put this into good use by exploring an old or new passion. DIY home renovation is a favorite of many stay-at-home mums, and you can do this in partnership with different commercial renovation services. A great way to renovate your kitchen is to paint your cabinets. Check out this guide by Thatpainter.com to help you get started
5. Always Get Enough Rest
Rest isn't just about sleep at night. Rather, it involves the wellness of both the mind and body. Always make time for rest during the day, such as meditation, muscle relaxation, and breathing exercises.
Catch Your Fire Back
Granted, it's not always easy as a stay-at-home mum to achieve the goal of total control of your time. With these tips, however, you'll be edging back to the old you in no time.