Once and for all. Once and for all, you're going find the way of hydrating your skin. With face masks, a little goes a long way, so if you're short on time, this might be your best option.
A stand-out item is the Aztec Secret Indian clay. It has a large, dedicated following who swear by it. Check it all the options, though, because different things work for different people.
#1

Pevonia Ageless Skin Collagen Mask
Restore your skin's youthful luster and radiance with Pevonia's Ageless Skin Collagen Mask. De-aging and plumping Collagen Polypeptides combine with Carotene and other actives to combat free radicals and atrophy. Deeply repairing visible lines and wrinkles, the Ageless Skin Collagen Mask restores moisture while tightening, detoxifying and brightening the skin.
#2

Zuhuri Beauty'S Pore Cleansing Clay Mask
This product really brings your skin back to life, decongests your pores, smoothes and firms skin. The tag line is it's skin food! and it really is. Feeds your skin while drawing out impurities leaving you feeling and looking fresh.
#3

Aztec Secret Indian Healing Clay
Touted as the world's most powerful facial, you can add this secret weapon to your skincare arsenal for a under $9. The 100% natural calcium bentonite clay formula takes deep pore cleansing to a whole new level. Does not contain: Additives, fragrances or animal products. This product has a cult following.
#4

The Face Shop The Solution Full Facial Mask
These little facial masks are packed with vitamins and minerals that'll leave your skin feeling soft and ultra-hydrated. They also help with large pores, hyperpigmentation, acne scars, and dry flaky skin. A 10-pack costs $15.99 on Amazon. A mask for all occasions, skin types, and every need your skin may ask for: moisturizing, soothing, brightening, firming, wrinkle care, radiance, pore care, nourishing, smoothing, the choice is there for you to choose.
#5

Graffiti Collective Hustle & Glow Mask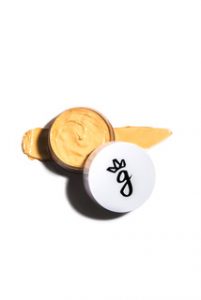 This gel formula is loaded up with plant based moisturizers like squalane, olive oil, jojoba milk and acacia tree sap to hydrate and tighten your pores. After about 10 minutes, the moisturizers will soak into your skin and leave behind a sheet a gold. Wash or wipe away (or leave as much shimmer as you want!).
#6

Vitabrid C¹² Dual Mask: Age-Defying & Firming

This k-beauty sheet mask features an age-defying and firming formula that promotes the feel of increased collagen, replaces skin's moisture, and improves the overall look of the complexion. Skin is left feeling softer, smoother, and more hydrated.
#7

Osmosis Beauty Tropical Mango – Barrier Repair Mask
Created with nourishing ingredients like nut and fruit butters, this creamy face mask works to restore the skin's lipid barrier, revealing a soothed and replenished complexion.
#8

January Labs Moisture Renew Mask
Fan favorite January Labs Moisture Renew Mask is a leave on mask that hydrates, plumps skin and fills fine lines. Formulated with 45% of the mega-moisturizer, hyaluronic acid, and combined with squalane to attract and maintain skin hydration levels, this is our must-have for healthy, glowing skin!
#9

Lather Honey Moisture Mask With Propolis Extract
This mask is a super-hydrating miracle mask developed to relieve dry, stressed skin that has been over-exposed to pollution and nature's harsh elements. The unique formula is made with propolis extract, made by honeybees to protect their hives, and natural honey with nourishing minerals and vitamins to help revitalize and transform skin!
#10

Hanskin Hyaluron Moisture Mask
This brightening, super-fine fiber sheet mask closely adheres to skin to saturate with revitalizing, moisturizing ingredients like sodium hyaluronate and rose water. Brightening niacinamide helps balance oil production and minimize the look of dark spots and discoloration.
#11

Keep Cool And Ocean Mask
This super intensive hydrating mask is formulated with deep sea water to deliver the ultimate hydration to dry, dehydrated skin.
#12

Berry Dual Gel Sleeping Cream Face Mask
Contains dual gel and cream texture to both moisturize, anti-oxidize and nourish the skin while sleeping. The Gel contains super antioxidants, Berry complex and Edelweiss stem cells, while the cream contains shea butter and adenosine..
#13

When The Last Choice Sheet Mask
Quench your face thirst with this soft, jelly-like mask made from coconut juice, hyaluronate and saccharide isomerate to help keep skin moisturized, and hyaluronic acid and ginseng to help keep skin healthy.
#14

Simply When Water Wish Hydrate Sheet Masks
Ultra soft, cotton linter Bemliese™ sheet mask soaked in light, refreshing essence formulated with Aloe Vera Leaf and Oatmeal Extracts to help skin replenish its moisture.
#15

Bevara Skin Clay Mask
Bevara Skin Clay Mask – Hydrate, detox and firm skin with this mask rich in vitamins and minerals. Brazilian Volcanic Silt and infused botanicals of White Tea Extract protect against free radical exposure, Broad Spectrum CBD and Vitamins A, B, C and E deliver healthy nutrients to the skin while the Bamboo Bead exfoliants reveal a smooth and luminous complexion, getting rid of any damage caused by the harsh elements. Broccoli Oil moisturizes and hydrates skin.Bevara Skin Clay Mask is Sulfate Free, Paraben Free, Phthalate Free, Vegan and Cruelty Free.
#16

Lululun Blue Rich Moisture Face Mask
This is a cost effective, easy to use hydrating skin mask which contains hyaluronic acid as well as other ingredients which help the skin glow!
#17

Orgaid Greek Yogurt Nourishing Sheet Mask
This is the organic sheet mask that your dehydrated complexion is begging you for. It's always best to know exactly what you're putting onto your face, and what you see is what you get with Orgaid's nourishing sheet mask. Infused with ingredients like yogurt, hyaluronic acid, green tea extract, and an array of all-natural botanicals to quench your skin, lock in moisture, and hydrate from the inside out, your skin won't know what hit it with this easy-to-apply, chemical-free face mask.
#18

Hydrating Cream Mask
Hydrating Cream Mask nurtures and nourishes while protecting the skin against dryness from harsh weather. This rich mask offers intensive care to dry and sensitive skin, as well as skin in need of renewal. Skin looks and feels supple, fresh and smooth.
#19

Tammy Fender Restorative Radiance Masque
This lavish and lightly creamy bisque pink treatment mask is made from a sumptuous blend of exquisite flower waters and nutritive exotic extracts, including Lotus, Baobab, Jasmine and Rose.
#20

Deep Hydrating Face Mask
An intensive mask for extra moisture and smoothness. Contains extracts of Aloe Vera and Chamomile to supply intensive moisture and calm the skin. Purslane, the key active ingredient used in this range by Dr. Sturm, activates the skin's own anti-oxidant system and protects sensitive cell membranes against free radical attack. In addition, Kaolin, which is also known as China Clay, lends silky-soft smoothness and suppleness to the skin.
#21

C'est Moi Soothing Cucumber & Aloe Gel Facial Mask
C'Est Moi Soothing Cucumber & Aloe Gel Facial Mask is a hydrating mask, perfect for all skin types. The unique ocmbination of organic aloe, cucumber and calendula help soothe, hydrate and moisturize skin.
#22

C'est Moi Refreshing Papaya & Strawberry Seed Scrub Facial Mask
C'Est Moi Refreshing Papaya & Strawberry Seed Scrub Facial Mask gently hydrates & balances skin while scubbing away impurities with it's unique blend of papaya, sugar and strawberry seeds.
---
The recommendations of products and books within this article where sourced from industry experts. Their names and websites are listed below.