This article showcases our top picks for the
Best Environmentally Friendly Cleaning Products
. We reached out to industry leaders and experts who have contributed the suggestions within this article (they have been credited for their contributions below). We are keen to hear your feedback on all of our content and our comment section is a moderated space to express your thoughts and feelings related (or not) to this article 
This list is in no particular order.
This product was recommended by Upasana Shrestha from The Spreadsheet Page
Certified by Safre Choice, this orange scented natural dish soap is a dye-free and paraben-free product. It contains zero phosphates, SLS or triclosan. It contains no artificial flavours or gluten. Besides dishes, the brand is also suitable to clean ceramics, crystal, glasses, pots and pans and utensils. The product is free from animal products or animal testing. It's gentle on the hands and contains no toxic chemicals.
---
This product was recommended by Upasana Shrestha from The Spreadsheet Page
Another eco-friendly product of Boulder Clean, this toilet bowl cleaner is bleach-free. Simply cover the bowl and rim with this scented cleaner and scrub and flush it away to remove dirt and grime. For tougher stains, let it sit for 10 minutes. The Boulder Clean toilet bowl cleaner comes in Bergamot Rosemary Eucalyptus scent and Fresh Eucalyptus scent. There are no toxic chemicals and it's naturally derived. It contains no chlorine, no artificial fragrances, and is free from animal testing and animal ingredients.
---
This product was recommended by Eleanor Turner from The Cheeky Panda
Perfect for comes to soaking up kitchen spills, The Cheeky Panda's strong and super absorbent roll is both sustainably made and biodegradable. This is great because you won't feel guilty about reaching for it every time there's an unexpected mess to wipe up.
---
This product was recommended by Ray Brosnan from Brosnan Property Solutions
If you need something for the windows, we recommend the 'Ecos' Window and Glass cleaner. It's a specially designed product, concocted by a team of chemists, without the use of toxic ingredients. The Ecos team also create the product in an environmentally safe manner by hitting water neutral and carbon netural goals whilst also following zero waste guidelines – The product leaves no environmental footprint throughout its lifespan and meets all of the pre-requisites for the EPAs Safer Choice criteria. This is an ammonia free, vinegar based cleaner that can be used on glass, crystal and mirrors. It's biodegradable, non toxic and can also be used on things like stainless steel, vinyl and even chrome. It cuts through grime, dirt and fingerprints and the packaging is made from recyclable containers.
---
This product was recommended by Michael Jan Baldicana from bidetsPLUS
CloroxPro Clorox Commercial Solutions Green Works All Purpose Cleaner is a high-performance cleaner that is designed for everyday use. It can be used on a variety of surfaces such as carpets, tiles, stainless steel granite, chrome, sinks and toilets. It is the perfect solution for anyone who needs to clean up their home or office. It is environmentally-friendly and effective solutions for every type of cleaning needs. It is 98% naturally derived plant and mineral based cleaning ingredients help remove stains with no harsh chemicals. It is also EPA Safer Choice certified which is made with recycled packaging and never tested on animals.
---
This product was recommended by Sharon Sanders from Philadelphia Weekly
The Sparkle Bright Products All-Natural Jewelry Cleaner is non-toxic, environmentally friendly, and biodegradable. It contains no harsh chemicals. It can clean pieces of jewelry made of gold, silver, diamond, platinum, gemstones, and others. It is not a corrosive cleaner so your jewelries are all safe and clean.
---
This product was recommended by Kathleen Fletcher from Kitty Baby Love
Unlike many drain cleaners, that contain toxic and corrosive chemicals that are bad for the environment and potentially for your health, Green Gobbler uses a specifically formulated enzyme solution designed to break down fats, oils, greases, starches, proteins, cellulose, sludge, and other food waste. The product isn't just 'green', it is effective, too. Not only will it unblock your drains, pipes etc., and eliminate odors, but regular use also acts as a preventive measure, too. Colonies of waste-eating bacteria and enzymes will form in your pipes, preventing further build-up that may cause a blockage again.
---
This product was recommended by Jessica Samson from The Maids
One of my favorite brands when it comes to environmentally friendly cleaning product is Seventh Generation. Specifically their glass cleaner is my favorite. It is is perfect for cleaning glass, stainless steel, chrome, and shower glass doors and leaving them streak free. Each bottle is made from recycled materials and the entire bottle is also recyclable. The scent comes from essential oils and not only is this a natural way to scent the product, but it smells amazing! It is also hypoallergenic, and contains no artificial dyes or fragrances. I cannot recommend this product enough and it is such a great cleaning product and stacks up to all the non-sustainable products that it competes with!
---
This product was recommended by Anthony Turk from Begley's Best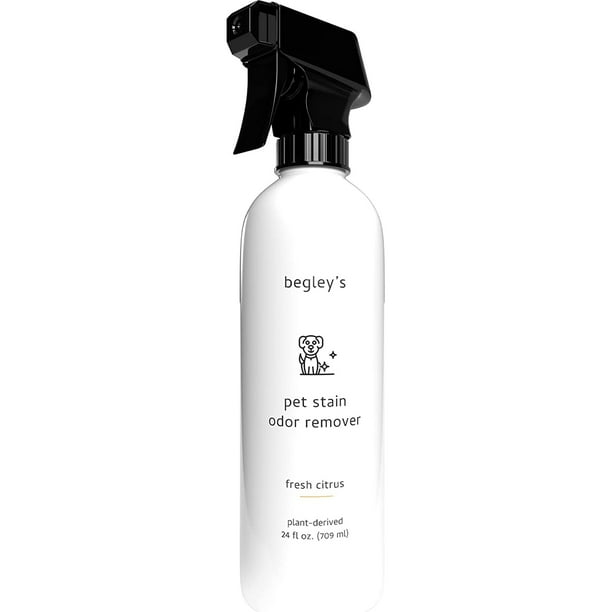 This line of eco-friendly cleaning and pet products created by Hollywood icon and environmentalist, ED BEGLEY, JR. benefits various non-profit organizations that help the planet and it's inhabitants as chosen by the Begley Family Foundation. Begley believes environmentally conscious consumers shouldn't be penalized with poorly performing products. That's why every BEGLEY'S Earth Responsible Product is individually designed and tested to perform equal to or better than its corresponding non-green alternative. The active ingredients include plant based, sustainable and rapidly biodegradable. Beneficial botanical essential oils add a pleasant aroma-therapeutic scent. Of greatest importance is the safety of the household in which it is being used. This includes humans, animals and plants- and the health of our planet at large. In formulating the products Ed believes he has chosen the safest and most effective ingredients available on the market today. All of the ingredients are considered "All Natural" with the exception of the preservative (less than 1%) found in some of the BEGLEY'S cleaners.
---
This product was recommended by Basudeb Saha from Livelywatt
This all-in-one floor cleaner is not only Ecologo certified but also Climate Pledge Friendly. *This product is made with essential oils & other thoughtfully chosen ingredients that cause no harm to the environment. *Additionally, the packaging is also recyclable and reusable. It comes inside a spray container, which later you can reuse for Gardening by watering indoor plants.
---
This product was recommended by Melanie du Mont from EnviroKlenz
Now with 86% less plastic waste, EnviroKlenz's Liquid Laundry Enhancer is used alongside your regular, unscented laundry detergent to remove sweat odors, mildew odors, fragrances, chemicals, and other odors from your washable clothing. Its hypoallergenic, no-fragrance EnviroKlenz® patented earth mineral technology safely and effectively destroys odors and fragrances at their chemical source. Perfect for Back-to-School sports season!
---
This product was recommended by Shannah Henderson from Henderson Public Relations
I highly recommend the Walton Wood Farm Funk Off! Funk & Stain Destroyer. Made with sustainable ingredients, this plant-based cleaner uses bio enzyme technology to eliminate and digest stains and odors, and prevents them, too! Its Spring Fresh scent quickly dissipates to a neutral, clean odor. It works on wine, vomit, blood, urine, feces, food, sports funk, armpit stains and odor, shoes, and more. Plant-based & Earth-friendly, this cleaner is vegetarian, cruelty-free, and free of SLS, Paraben & Dyes.
---
This product was recommended by Alex Varela from Dallas Maids of Frisco
I love green cleaning products, especially for laundry. Regular laundry detergents contaminate the ocean through microplastics. The brand Dropps has different cleaning products, and I like this one because with pods you use exactly what you need for detergent. Their formulas are mostly plant and mineral based, and they're cruelty free and vegan. Besides, they use non-plastic packaging. This brand is actually partners with an ocean conservancy organization, which means they have taken their formula and packaging to the least possible contamination degree.
---
This product was recommended by Steve Evans from Memphis Maids
I love the brand Cleancult for many reasons. They are so transparent about their ingredient list, and they use plant-based cleaning agents (mostly coconut based surfactants). I also like their character as a brand, they offer something else than just being a "green brand" I like the milk-carton approach to their packaging. Even the cap is plant-based, and the carton is recyclable.
---