This article showcases our top picks for the
Best Environmentally Friendly Christmas Gifts
. We reached out to industry leaders and experts who have contributed the suggestions within this article (they have been credited for their contributions below). We are keen to hear your feedback on all of our content and our comment section is a moderated space to express your thoughts and feelings related (or not) to this article 
This list is in no particular order.
This product was recommended by Vicki Garfinkel from Steeped Coffee
Steeped Coffee is available for contactless delivery on Amazon with Prime Free Delivery, at select Whole Foods, and through premium environmentally conscious supermarkets, luxury hotels, and offices with craft coffee services. It's been named among the best "instant" coffees by *Good Housekeeping* and *ESQUIRE*, and has been included in Ellen Degeneres' popular food subscription box. In addition, the company is giving back by providing 20% of all sales to FEEDING AMERICA to help fight hunger, and provides free coffee to healthcare heroes.
---
This product was recommended by Brandon Karam from Pristine
Our body cleansing sprays offer a great-smelling body spray that actually cleanses (unlike most body sprays, which just mask odor). Great for anyone who needs a shower on the go, when no shower is available. We also make toilet paper sprays that are sprayed onto dry toilet paper to create an instant wet wipe that is actually flushable. I have linked to our Amazon account – we have over 4,000 reviews and a 4.5 star rating.
---
This product was recommended by Tim Connon from ParamountQuote Insurance Advisors
So many people need good bags for produce and I decided to get these they have been very durable and helpful. I would recommend these to anyone wanting eco-friendly bags.
---
This product was recommended by Greg Waloszczyk from Trouvaille Global Ltd
Soy candles with a purpose, Trouvaille is on a mission to save the planet's wildlife. Their new line of scented candles includes six designs representing the world biomes. Each candle sold protects 430 sq ft of threatened habitat through their partnership with the World Land Trust. Every purchase actually helps protect a piece of our planet.
---
This product was recommended by Rob Greene from Price of Meat
It's a natural home-based oxygen purification system that can, and will help to offset your carbon footprint. In other words, it'll reduce the amount of carbon dioxide in the atmosphere, which will help to save the planet and protect the future. And all you need to do is water it once a week…
---
This product was recommended by Bonnie Fisher from Better World Apparel
The iconic Australian skincare brand is known for its impeccable minimalist design and sustainable approach, especially on what concerns animal testing. So, if you have a little extra to splurge on your bathing experience, this is the way to go!
---
This product was recommended by Susie Klein from Wollemi Sustainable Collection
We love the newcomer Wollemi leggings because they are made from recycled plastic bottles that are turned into buttery soft, stretchy fabric. The V high waist and compression style makes for a very flattering look, and unlike many of the fast fashion brands that run upward of $100, these leggings are priced at $44.95. The eco-conscious woman in your life will also love that the packaging is compostable, and the fact that Wollemi is a supporter of Plastic Bank, which helps to keep plastic from entering oceans around the world. These leggings make a great gift for girlfriend, wife, mom, and teenager.
---
This product was recommended by Rachel Scott from National TASC LLC
Food waste is one of the biggest problems in the world right now. So many foods are being thrown in the garbage because they became spoiled. To solve this problem, there is a need for a safe material to increase the length of time our foods are viable and safe for eating. These silicone stretch lids are used to keep fresh food safe. This is especially useful when you cut a big fruit but cannot eat all of it in one seating. With six different sizes, it sure can accommodate different kitchen items. It can easily be cleaned so it is easy to maintain it.
---
This product was recommended by Sharon Dylan from Management Help LLC
The Vayepro Hot Plate Portable Electric Stove is one of the most eco-friendly stoves in the market. It is made with a corrosion-resistant cast making it very durable despite being exposed to very high temperatures. It also features temperature on and off cycles to maintain the desired temperature, saving a lot of energy. Studies using this and comparing to a traditional electric induction cooker shows a 30% reduction in energy usage, hence, making it energy efficient and very environment-friendly. It is also portable and slim, so you can bring it even when you go camping.
---
This product was recommended by Sharon Sanders from Philadelphia Weekly
If you are looking into turning your patio into something that has a vintage atmosphere, then you have to get these outdoor lights. These acrylic light bulbs are impact resistant so they won't easily break even if dropped or stepped on. They are also oil-rubbed with bronze shade, adding more vintage effect to these bulbs. The best thing about this is that they can be linked together so you can have a string of outdoor lights.
---
This product was recommended by Michael Jan Baldicana from Dream Chasers
The Premium Bamboo Cheese Board Set is a beautiful bamboo cheese board set that has been crafted with care and precision to ensure you are getting the best possible product. This item is also very unique in that it comes with two different sized boards, one for meats and one for cheeses. This is an environmentally friendly material that will last for years without any cracks or damage. This is the perfect gift for any occasion. It is a beautifully designed, high quality set that will make people feel special.
---
This product was recommended by Ankit Patel from 24/7 Dental
The LeafLife Premium Bamboo Thermos with Tea Infuser & Strainer is a great choice for those who want to stay hydrated and caffeinated throughout the day. This is a high-quality, insulated thermos that keeps beverages hot or cold for 12 hours. It has a sleek and elegant design that can match any home décor. This product is eco-friendly and made from 100% natural bamboo materials.
---
This product was recommended by Nick Bolshaw from Inyouths LED Mirrors
This is the perfect gift for a garden enthusiast that's environment-conscious as well. Christmas is the time of sharing, and what better item to share than compost that saves the environment? Always look for things that they love so that they can appreciate the gift even more. This kit includes everything you need to eradicate your kitchen scraps, is made of high-quality materials, and with a pleasing design. It's small and would fit anywhere. Plus, it was built to last, so you'll get extra savings in the long run!
---
This product was recommended by Anna Osborn from Everything Branding
The Buddha Board is a screen-free mindfulness tool that can help you get into a relaxed state of mind by doing something creative! All you need is water to get lost in the process. Simply paint on the screen with water and watch the water, and your worries, wash away! By switching gears and focusing on the act of painting, you can process your stress and let it go. No ink, paint, or chemicals involved, making the Buddha Board a perfect reusable, eco-friendly gift idea this holiday season!
---
This product was recommended by Amber Masciorini from ChicExecs Brand
Enjoy the outdoors wherever you go with this handy hammock. The lightweight, packable hammocks from Coalatree are perfect for anywhere you may venture, be it backpacking through the deep woods or a glamping trip with the gals. It packs into itself so you're always ready for adventure. Two ropes are included with carabiners making it easy to secure your hammock anywhere.
---
This product was recommended by Amber Masciorini from ChicExecs Brand
Spent coffee grounds are mixed and melted down with recycled plastic bottles to create the fibers for its innovative Baseline Midlayer. The result is a midlayer packed with features that are perfect for all outdoor adventures. Unlike other fleece garments, the Baseline does not shed microplastics when washed. This eco-friendly layer saves millions of tiny plastics from contaminating our ecosystems!
---
This product was recommended by Lydia Shoaf from Friendship Bridge
This Patchwork Bag, handmade by the Guatemalan artisan Martina, is made of a variety of recycled fabrics from traditional Guatemalan blouses and other textiles commonly used in the country. Sturdy and colorful, each creation is slightly different, based on the fabrics available.
---
This product was recommended by Amy Barber from ePromos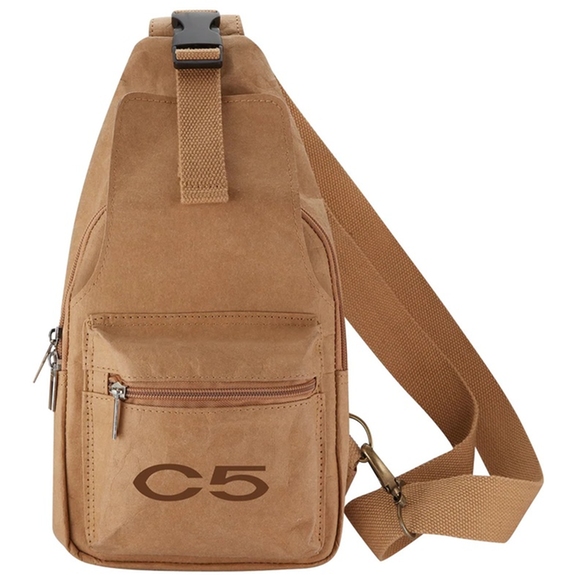 Help save the planet with an Eco-friendly Water Repellent Custom Sling Bag. Made of washable paper, this versatile bag is vegan friendly and 100% recyclable by beginning to decompose within two weeks of being placed in the ground. In addition, it is stylish, lightweight, and a portion of the proceeds goes to Project Aware which aims to rid our oceans of harmful debris.
---
This product was recommended by Lara Hartog from The Best Travel Gifts
If you are looking for cool environmentally-friendly gifts for Christmas for people who love to travel (and who doesn't love a good vacation?) this is the perfect gift. It's a beautiful travel guide that shows us how we can travel without damaging the earth. Because we all know that air travel is not particularly great for the environment. It includes 180 ideas on how you can explore the world in an eco-friendly and affordable manner.
---
This product was recommended by Jenn from CALICLE
Delight your favorite ice cream lover with the coolest gift this holiday season. Calicle smart and stylish vacuum insulated bowls keep your ice cream at the perfect consistency from first bite to last so you can savor every last spoonful. No more meltdowns! These bowls are infinitely reusable, making them a sustainable alternative to single use ice cream cups at your favorite scoop shop and they come in fully recyclable packaging.
---
This product was recommended by Lorie Carson from Real People Finder
It makes a great Christmas present for kids. These lead-free pencils allow you to satisfy all of your adult doodle/note-taking urges, and once you've finished using them, you can plant them because the pencils' bases are equipped with seed capsules in place of erasers. Each biodegradable pencil is marked with the seeds it contains.
---
This product was recommended by Helena from Candyneon
Reindeer neon sign is widely used as home decor, party/prom decor, outdoor decor, and gift. Bright neon light is an ideal eye catching addition and will help you gain lots of compliments. High quality neon sign made by hand and built to last.
---