Fast fashion is a trend within the fashion industry that seeks to get the pieces exhibited at the runway as fast as possible to the stores, then to the consumers, and finally, to the dumpster. It is nothing more than a voracious capitalist racket that seeks to create and aggressively promote hastily made fashionwear for the consumer that will be discarded soon, as another fast-tracked product is on the way even before they are done swiping their credit cards.
It is truly an example of one of the worst unethical and borderline predatory practices that the fashion industry is guilty of. Not only are they abusing consumers, but add to that the deplorable conditions of the workers on the developing world that produces these clothes are subjected to, coupled with meager salaries. And, on top of it all, the fact that these pieces are disposed of quickly adds to mountains of contaminating waste that doesn't go away anytime soon.
It is simply insanity, and you shouldn't be a part of it any longer. To combat the unquenchable greed the industry is full of, an alternative needed to rise. That's where non-fast fashion ethical brands come in to play. Produced with only durability, sustainability, and fair compensation in mind, ethical non-fast fashion represents the choice for the conscious consumer that cares for the impact their choices have all around them. Check out the best brands to support in this crusade.
Firebird kids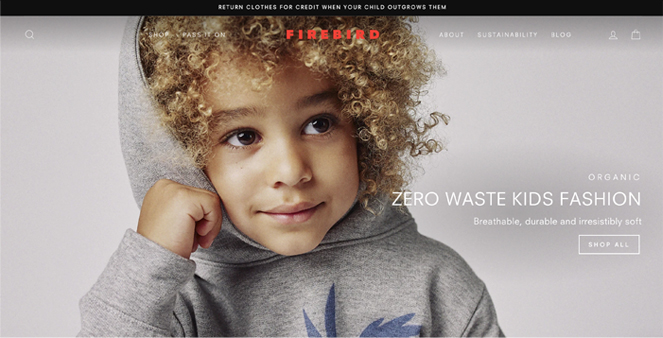 A Firebird Kids is a sustainable and circular children's clothing brand, based in San Francisco. Mixing European chic with American cool , the brand creates contemporary but timeless designs that are made exclusively from GOTS-certified organic cotton & cashmere. The Peruvian Pima cotton that they use is unbelievably soft, and children have been known to request to sleep in their Firebird clothes.
Taking a stand against fast fashion, all of Firebird clothes are made in the US (in NYC and LA) in small batches. The brand runs a buyback program called Pass It On – customers are encouraged to send the products back once the child outgrows them to be resold, upcycled or recycled, and are rewarded with credit toward their next purchase. Most of the styles are unisex, making it easier to hand the clothes down to siblings and friends, or to resell.
#1
Pantera Bianca
At Pantera Bianca, they honour people with great style – people who internalised discreet taste, elegance and charm. They want to embody the spirit of people with great character and personality that changed the world. (And everything is ethically made… woo…)
#2
Jody Tjan
Jody Tjan is a New York City-based fashion designer who has been working in the garment business since 1986. First as a teenager at her parents' sewing factories in New York City and now for her own fashion brand.
Her eponymous label is a sustainable and ethical fashion brand that focuses on locally sourced and manufactured styles. Her decision to take the dive, after so many years in the industry, was stirred up from her deep love for fashion and what she identified as the industry's need for more genuine and passionate ethical brands.
The brand is praised by customers and tastemakers alike for its ingenious practices that combat waste, like offering made-to-order pieces and exclusive designs made from leftover or discarded materials, without compromising its smart and beautiful style.
#3
Kooshoo
KOOSHOO's Plastic-Free Organic Hair Ties are the first high-performing, organic, plastic-free hair ties in the world. They are made from certified organic cotton and natural rubber, both of which are 100% biodegradable. So if they happen to lose one during their day, they can be comforted knowing that it will actually break down!
#4
Clean Origin
If avoiding conflict or blood diamonds is important to you, lab-created diamonds provide peace of mind that a natural diamond often cannot. Clean Origin gives couples a new, beautiful, 100% ethical engagement ring option, providing them constant reassurance in knowing the exact origin of their diamond.
#5
Alterra Pure
Alterra Pure is organic, sustainable, and durable home textiles for bed. All ingredients are certified (GOTS) and verified for organic integrity. Even further, Alterra Pure practices absolute transparency, no secrets. From the seed type to finishing solutions to factories, everything is open and shared. All water used is captured, recycled, and re-used.
All solutions used are eco-friendly (low BOD/COD) and biodegradable to OECD standards. But durable, yep, that's the most non-fast fashion aspect. A tight woven percale as Alterra Pure hasn't seen the light of day since your grandmother. But that's what they make – something you'll want to pass down through the ages.
#6
Kind Apparel
Kind Apparel creates adventure-ready wearables for gals who get after it, made from recycled plastic bottles! 100% of their items are made from recycled plastic and they're passionate about reducing manufacturing waste and toxic chemicals with their process. Their products are built to last generations, and hold up to extreme athletic and technical wear.
#7
Beya Made
Beya Made is a collection of ethically produced (on the Georgia coast) clothing for babies and toddlers that is created from the fabric overages of other manufacturers. Each piece is designed to adjust as the child grows, extending its life up to 3x longer than other brands.
#8
Discourse Nyc
Discourse NYC is an ethical and sustainable womenswear brand based in New York City that was founded with a mission to provide women with stylish clothes that are also ethical and sustainable. 100% of Discourse clothing is made in New York City using ethical, sweatshop-free labor and sustainable fabrics.
From the founder: We started Discourse because we were tired of the same basic aesthetic that other sustainable brands have, but wanted to avoid supporting wasteful and exploitative fast fashion brands that churn out low-quality styles. As a result of witnessing fast fashion fill up landfills with styles that didn't sell within their short season, we only create seasonless capsule collections to give shoppers styles they can wear year-round.
#9
Majamas Earth
Majamas Earth has been designing and creating ethically, USA made fashion since 1999. Ensuring all their clothing is made in small, family-run shops and all workers are paid living wages has always been a top priority. They create capsule collections for Women, Men and Baby from sustainable fabrics that are made under strict environmental regulations in California. See how creating beautiful clothing doesn't have to harm our beautiful planet or the people who make their clothes.
#10
Sene
Sene offers an entire contemporary wardrobe for men and women that exclusively uses custom sizing. We're grateful for all the help we've gotten and would love to be helpful here.
As context, we're building our business with the CMO of Alexander Wang, former COO at Kickstarter and the retail design lead at Google.
We are focused on 1-to-1 fashion, where we only make a piece of clothing if there is someone there to wear it. We believe the only way to stop the 5 billion dollars of waste every year is if we nip the over production problem in the bud.
We also source from sustainable mills that are pioneering new techniques in terms of water consumption. It's better for the customer at the end of the day, because they get clothes that fit them and are made well.
#11
Contour Creative
Contour Creative is a handstamped lifestyle brand based in Washington state. Using her original designs, the owner hand-stamps every piece and finishes them with a hand-sewn hem tag. Because of Contour's unique printing process, all goods are durable and made for adventure.
One of their highest goals is to curate the most affordable, comfortable, and socially-conscious goods available. They firmly believe in the humanity of every soul and just can't stand to think of selling clothes made in a sweat shop. Contour values the freedom felt while wearing their clothing and knows that it starts with ethical manufacturing.
#12
Shayne
Shayne is a luxury clothing company for the in-betweenie woman, sizing 8 to 18. The company designs and manufacturers its pieces locally in NYC's garment district.
#13
Tashee
This brand, promotes modesty in fashion. In addition, instills core values and teachings of the Christian Faith. They do not follow the Fashion Calendar and products are made-to-order.
#14
Jackalo
Jackalo a line of durable and sustainable children's wear — we also have the occasional product for women, like our coverall. Not only do we only use certified organic cotton, but we accept all of our clothes back in exchange for a 20% discount on future orders. We then wash, repair (if needed), and resell the garment and upcycle or responsibly recycle what can't be resold.
#15
Banton Frameworks Ltd.
As Scotland's only eyewear manufacturer, we pride ourselves on the ability to handmake high-quality spectacle and sunglasses frames from high-quality, biodegradable acetate and long-lasting bespoke hardware.
Each sunglasses and spectacle frame is made in house, by hand in our workshop in Glasgow.
Since 2012, we've been slowly building our workshop with the intention of having our own factory space.
We're on a mission to create local jobs and pass on hard-earned skill which we impart into each glasses frame we proudly make.
#16
Sumissura
Sumissura is an ethical brand that makes custom made to measure clothing for women, based in Zurich, Switzerland. Our customers can design their suits, shirts, coats, trenchcoats, and dresses choosing from hundreds of fabrics, and thousands of design options. We ship all over the world and the USA is our biggest market.
We do really manufacture each garment one by one, to the specific measurements of each customer. This allows us to really control the waste or avoid unnecessary production. On the other hand, obviously we check the origin of each fabric provider and we control all the manufacturing process. This means we know who did each garment, what are the work conditions of each tailor, what is their medical insurance, etc.
Finally, we try to be eco-friendly in the logistics part, so we look for the optimal options to ship orders lowering the CO2 impact. For example, right now we are in a process of reducing the amount of plastic used on every shipping.
#17
Pact
In an endeavor to stay away from fast fashion, Pact has got the basics that you need to fill your wardrobe. The products range from men's, women's, to even toddlers and babies so there's no excuses for the whole family.. Sourcing organic materials, being Fair Trade, and their commitment to reducing water waste makes them your first stop when it comes to super-soft, comfortable, and guilt-free basics.
#18
Thredup
Being the worlds largest online thrift store puts ThredUp high on the priority list for anyone looking to reduce their part in the fast fashion industry. For a high quality, fashionable closet that's as good as new, you've come to the right place. It's a well-curated thrift store that helps you stay on top of the fashion trends while keeping your conscience intact.
#19
Wilde Vertigga
Wilde Vertigga, a unisex and asymmetrical fashion line inspired by the literary works of Oscar Wilde and his life as a non-conformist rebel. The diagonal line present in every piece encourages the customer to see fashion from a new angle and find perfection in the imperfection.
#20
The Tartan Blanket Co.
Encouraging slow living and making time for the people and things that soothe our souls is the concept at the heart of The Tartan Blanket Co., and is the meaning behind the Scottish word colsie, our brand ethos.
Colsie (think Scottish Hygge) is the feeling that comes with being present, inviting closeness, and making time for the people and things that soothe our souls. No matter what colsie means to you, it always involves the small pleasures that bring you joy.
We take pride in designing each blanket and scarf here in Scotland and finding ways to combine modern living and our Scottish heritage, while focusing on simplicity, aesthetic and respect for the environment.
Wool is, in our humble (and not at all biased) opinion, one of the best fibres in the world. Temperature regulating, breathable, naturally hypoallergenic and good for the planet, it is easy to see why it is used the world over.
#21
Brave Gentlemen By Joshua Katcher
Brave Gentlemen is an ethical vegan brand by Parson's lecturer Joshua Katcher. Using the latest in synthetic leather and wool they craft high end menswear for men and women. They have been featured on British GQ on Benedict Cumberbatch, as well as Forbes and Vogue.
#22
Storywear
Storywear is an ethical social enterprise that collaborates with sewers who must stay home to look after children with developmental disabilities. All of their fabrics are sourced from second-hand jeans. The brand espouses a zero waste cycle and is a regular participant in Fashion Revolution to promote ethical practices in the fashion industry.
#23
Winter Hill Jewelry
Winter Hill Jewelry creates unique and affordable jewelry with the environment in mind. Earrings are 3D printed in a plant-based, eco-friendly plastic. The 3D printers that create the earrings are 100% run on solar power. All earrings are housed on cards that are made of 100% recycled paper and shipped in biodegradable packaging.
#24
Marsanne Brands
We make 1 of 1 unique garments (that are from recycled garments) and put original art on them. This way, we fight garment waste. We firmly believe in pumping the life back into the garment! We are combating garment waste by making new, wearable art based on tattered remains of discarded clothing. We are also genderless and inclusive.
We are looking to smash the gender constructs that live in the streetwear world, and create a more sustainable, artistic space. Marsanne Brands welcomes all – every size, every gender, every age, every human that wishes to unite behind a cause and fight for the better of the world.
#25
Vida
The artists get a portion of the sales and VIDA offers literacy training to the factory workers – and no excess waste as everything is made on demand. They are trying to break the fast-fashion chain and offer unique items that match any style.
#26
Love Lorn Lingerie
Love Lorn Lingerie is a handmade, slow fashion lingerie and accessories brand run by one woman from her tiny Brooklyn apartment. Everything is handmade to order using genuine leather purchased from US based suppliers. Blending kink, fantasy and feminism, Love Lorn Lingerie creates transformative harnesses, accessories and lingerie for the dark hearts. With an accessible handmade price point and bespoke sizing, Love Lorn is for anybody and every body.
#27
Vibrate Higher
Vibrate Higher is a charitable, conscious apparel and wellness company on a mission to elevate others all over the world through mantra-based clothing, wellness products, and immersive experiences. For each item sold, Vibrate Higher donates a solar powered lamp to one of the 63% of families without electricity in Haiti through the Vibrate Higher Foundation's Be The Light Initiative, #bethelight.
The Vibrate Higher Foundation is the natural extension and charitable arm of the Vibrate Higher brand. A U.S.-based 501c3 non-profit, the foundation is dedicated to elevating the lives of others and changing the world with massive change at a grassroots level. It promotes the well-being of women, children and minority groups by investing in social programs that alleviate poverty while bringing mindfulness and yoga techniques to the underprivileged.
Being a mindful company also pertains to the brand's impact on the environment. Vibrate Higher ethically prints and creates each product with the intent to reduce overproduction. In addition, Vibrate Higher uses eco-fabrics, water-based ink on the shirts, and limits the use of plastic and non-biodegradable materials in their products. When plastic is used and can't be avoided, the company ensures it has been made from recycled materials.
Not only does the company aim to #wearGOODdoGREAT in all aspects of business, but their mantra tees, tanks, and accessories are perfect for everything from your workout to dinner with friends!
---
The recommendations of products and books within this article where sourced from industry experts. Their names and websites are listed below.
Who contributed to this article?
Zlepšenie potencie často závisí priamo od samotného muža. Stačí sa vzdať fajčenia a alkoholu, aby ste počas pohlavného styku opäť pocítili celú škálu emócií. Starostlivosť o zdravie. Ignorovanie infekčných a chronických ochorení, predčasné odosielanie Ako to funguje? k lekárom vedú k vzniku patológií, medzi ktoré patrí aj impotencia.