Gifting is an act in which the giver presents to a receiver a token of their appreciation in the form of a gift, which, ideally should be something that the receiver likes in a deep emotional level, something that suits them, their hobbies, and identity. Knowing well who you are gifting to is paramount.
Yet, many people have very crude and cliché ideas of what to give to one of their friends which happens to be a member of the LGBT community. It's 2019 and people are still clueless! Something needed to be done. With that in mind, we've compiled a list of 100% friendly and non-offensive gifts for any LGBT friend you have among your ranks, guaranteed to make them smile and approve, check them out.
#1
Pura Vida Rainbow Ring
A rainbow represents a lot within the LGTBQ community, but mostly it means acceptance and freedom. Giving your friend this ring will show them how much they are loved and supported. It's sweet, simple, and says a lot. It's just what you're looking for.
#2
Gertrude Stein Necklace
Gertrude Stein's self-empowering words are hand-cast on two small sterling silver pendants (1/4 x 1), hung on an 18 delicate chain.
The designer handcrafts her jewelry collection in a solar-powered studio in Southern California.
#3
Rainbow Warrior Activation Deck
The Rainbow Warrior Activation Deck is an Oracle deck for empowerment, meditation, and spiritual development intended for everyone. It is a Living Now gold medal winner (Books that make the world a better place) and Amazon best seller. Created by award-winning author, spiritual empath, and shaman- Tracee Dunblazier, and visionary artist Justine Serebrin.
#4
Rainbow Warrior: The New Memoir By Gilbert Baker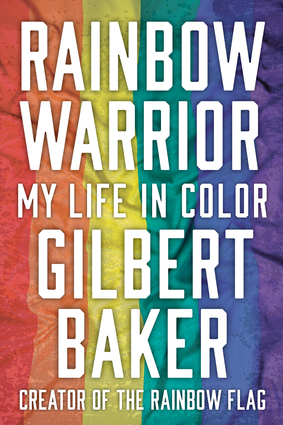 Whether you're just coming out, or you've been openly and proudly lgbt for years, it's important to know your community's history. This posthumous memoir records a watershed moment in the movement: the origin of the globally-recognized symbol of the lgbt community.
#5
Queer Cosmos By Colin Bedell
Queer Cosmos is a contemporary, fresh look into astrology, personal insight, and relationships for the LGBTQ+ community! Astrologer Colin Bedell from Cosmopolitan and QueerCosmos.com has brought together fifteen years of research, client interviews, and astrological mastery to create a spiritual guide for not only resistance and resilience, but also personal insights and relationship compatibility.
#6
Be You T-Shirt
To be you is to believe in yourself, let your friends show off their pride with this t-shirt.
#7
Trans Equality Now T-Shirt
HRC's Trans Equality Now t-shirt calls attention to the ongoing fight to end transgender discrimination within our federal government, our communities and across the globe. Now more than ever, we need to let the trans community know that their fight is our fight!
#8
Tom Of Finland Organic Vodka
ToF Organic Vodka celebrates the life and art of Touko Laaksonen, the world-famous artist known as Tom of Finland; one of the 20th century's most influential artists. He was the pioneer who 50 years ago single-handedly dreamed and drew gay, masculine erotica. On the charitable side, 5% of the proceeds are donated to the Tom of Finland Foundation based in California, and run by Tom's surviving partner, Durk Dehner.
#9
Gay Pride Phone Accessory
This LGBT friendly popsocket is a cute, practical, and affordable gift for anyone who supports or is LGBT friendly.
---
The recommendations of products and books within this article where sourced from industry experts. Their names and websites are listed below.
Who contributed to this article?