Giving a gift should be a very personal action that is accompanied by a healthy dose of soul searching and introspection to determine what is the right one to give to someone you hold dear.
That's all good and nice, but gift giving can also be an opportunity to further advance the advocacy towards a healthy, more egalitarian, and diverse society where we are all treated with respect. How? Simply by selecting a feminist-approved gift for giving! It's just a specifically selected item that reflects the correct values our movement seeks to spread, and don't worry, they are also a lot of fun! Check them out. If you don't find the right gift, you always can send fresh flowers which is a win-win option.
#1

Underbody Steamer Herbal Packet
A vibrant mixture of gentle, organic, delicately dried herbs specifically crafted to support the feminine cycle. Infuse your yoni steam (also known as vaginal steam or v-steam) with this colorful, premium herb blend that will leave you feeling grounded, refreshed, and exceptionally relaxed. Ingredients: organic mugwort, organic yarrow, organic calendula, organic rose petals.
Vaginal steaming is a time-honored self-care practice that has been passed down through generations of women in various cultures all over the world. The benefits range from postpartumcare, to smoother menstrual cycles, clearing of excess matter post-period, helping with fertility, easing the transition into menopause, relief from pelvic floor pain, and many others. Many women find it beneficial simply as a monthly self-care ritual.
The gift of SELF-CARE is vital for ALL WOMEN! Leiamoon is on a mission to Empower the Womb. Help us break the taboos around loving this part of our bodies and make vaginal steaming tools a mainstream gift breakthrough this year!
#2

Your Box Box – Monthly Subscription
Sex positive.
Women's sexual health empowering. Acknowledging pleasure is the ultimate self-care and this same pleasure is concurrently really, really good for our bodies.
YBB is a monthly women's self-care subscription box because pleasure is the ultimate self-care.
Our venture educates and empowers around all things ménage a MOI and to that end each monthly delivery offers an experience in a box.
Scene setting bath bomb/bath salts/aromatherapy.
Sex positive reads.
A pleasure product.
And a sweet treat to help prolong that post-O afterglow.
We are women who love our partners yet are firm believers it's time for women to explore and learn what we like…just for ourselves.
We are woman who strive to educate women around the sexual health benefits of masturbation.
Stress reduction, migraine medication, menstrual cramp lessening, pelvic floor strengthening.
#3

Chunky Cable Headband In Twisted Wool Knitting Kit
Stitch & Story's Chunky headband knitting kits are the ideal gift for any feminist, Stitch is owned by two women who decided to take their hobby and turn it into a business to improve its global image.
Not only do their gifts give you a skill which you can use and even turn into a job but knitting was recently used in a feminist movement within the US with the PussyHat project making it very relevant.
#4

Brotopia By Emily Chang
Why? Having seen and just barely survived the music and Entertainment scene with its megalomanic, sexist to pedophile perverts I thought it couldnt get much worse.
Now that I build a tech startup on the side, I was introduced to a yet even more disgusting industry. Or, maybe disgusting in a different way. Within my first 6 months in the scene (as a disabled female building on a high tech product), I experienced pretty much any of the behaviour described by Emily Chang, from sexist jokes to being treated like an intellectually disadvantaged person to sexual harassment in more or less the same style as described in the book.
I think it is INCREDIBLY important to be prepared, to know what one will have to deal with in a more and more technology governed world, and to know that some people have walked this road before and had their voice heard.
#5

Happy Box

As a female run startup, we source many of our products from other small and women-owned businesses and only aim to do more of this! So when you're supporting Happy Box, you're supporting dozens of other women-owned and local shops, helping getting them more exposure in the market. We love our fellow female founders!
#6

I'M A Queen Sassy Gift Mug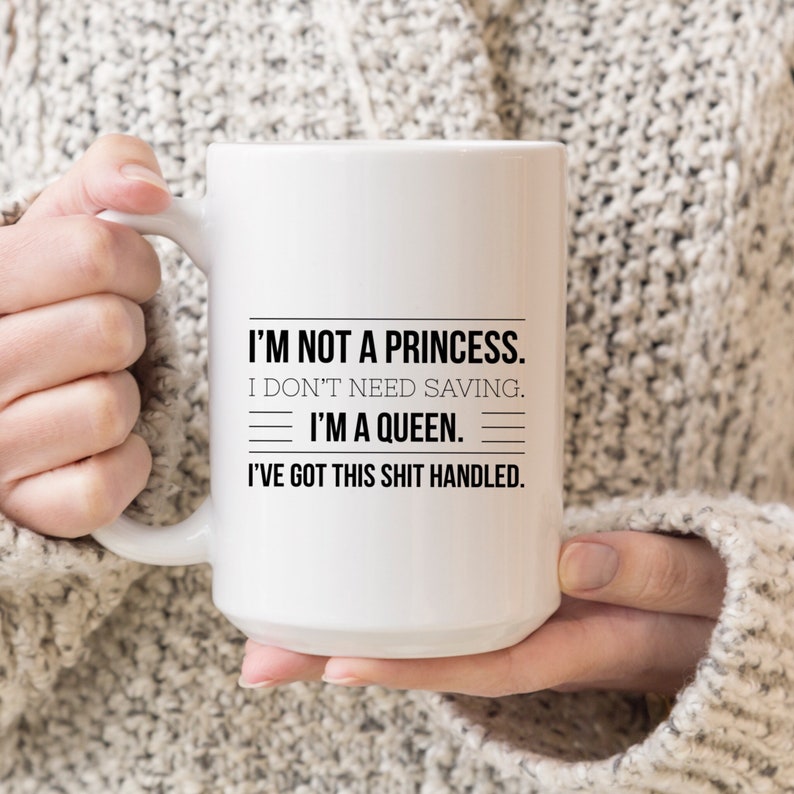 I'm not a princess. I don't need saving. I'm a Queen. I've got this shit handled. We all know what the most powerful piece in the chess game is.
#7

1950'S Smash The Patriarchy Mugs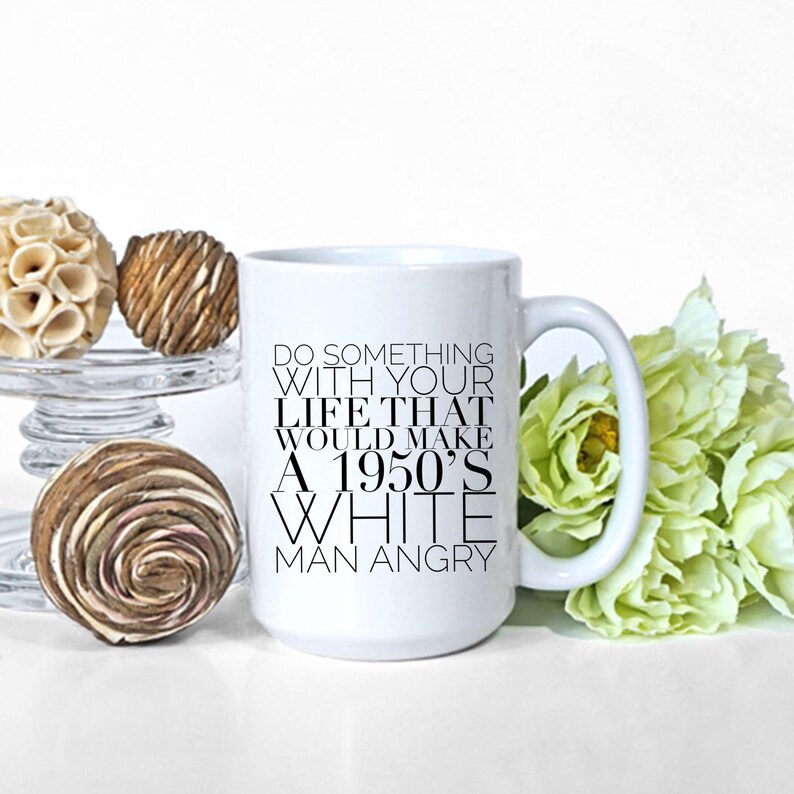 Do something with your life that would make a 1950's white man angry Which, these days, is just about anything!
#8

Women Need More Sleep Mugs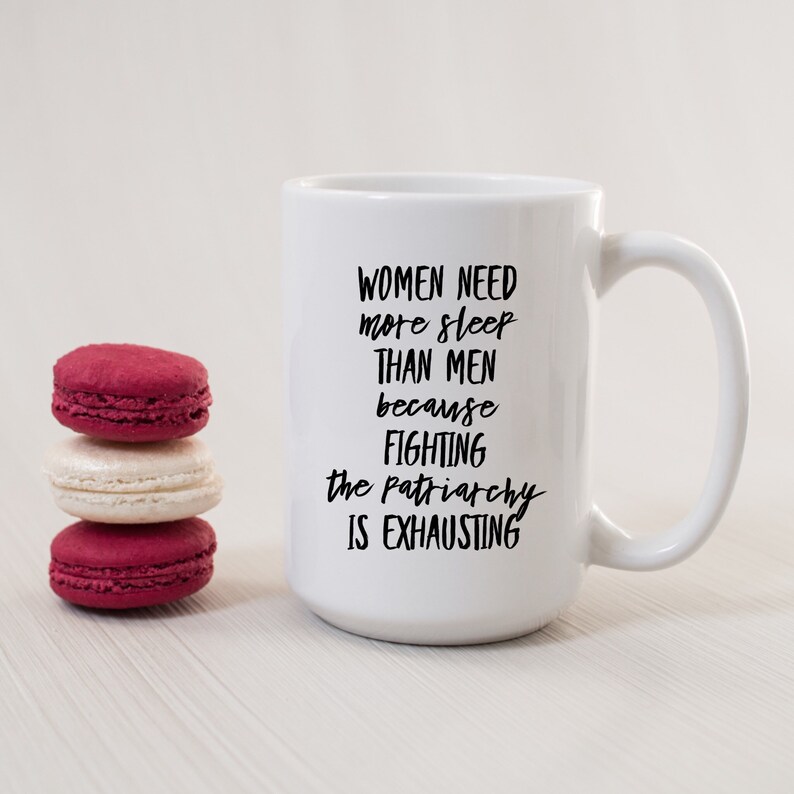 Women need more sleep than men because fighting the patriarchy is exhausting We're busy dreaming about how we are going to smash the patriarchy, and then waking up to make it happen.
#9

Feminist As Fuck Mug
Feminist as Fuck No need to mince words around here.
#10

Girl Power Sweary Mug Cup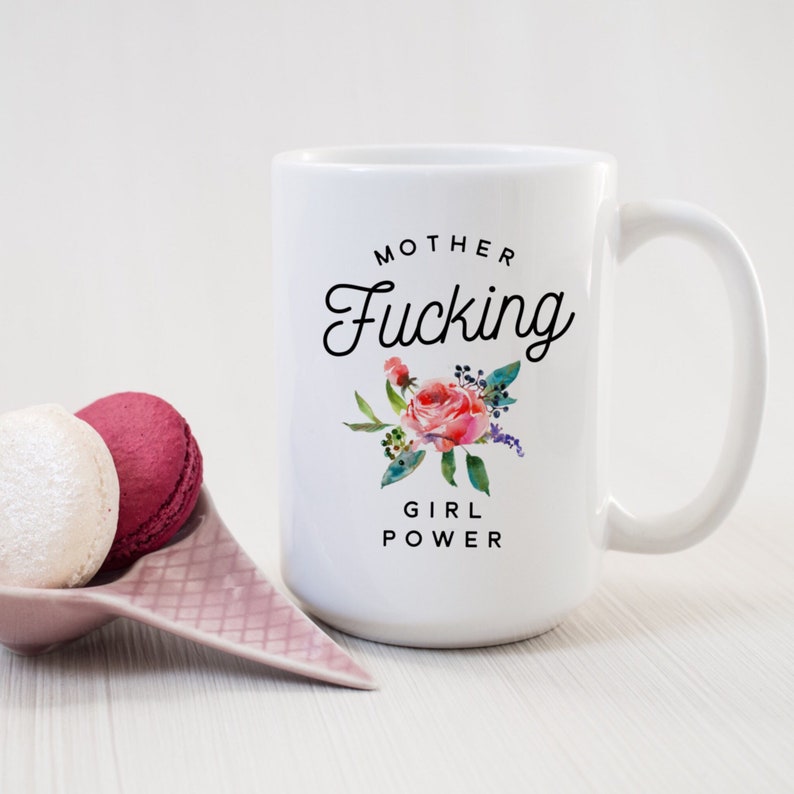 Mother Fucking Girl Power Because ladies can swear, too, and it doesn't make us any less lady-like.
#11

Zodiac Sign Creative Coffee Mugs
These zodiac mugs are one of a kind and are good for gifting someone who loves coffee and have an interest in astrology. Porcelain constellation coffee mug with matching spoon and lid emblemed with the Zodiac sign outlined in golden color. A wonderful gift idea and show of love to yourself, significant other, friend or a family member.
#12

Music Violin Guitar Coffee Mugs
These mugs are perfect for all music lovers.
Brew your favorite cup of coffee or tea, and let this mug help you get into your zone. Research has suggested that music can help us feel more motivated!
So let this mug inspire you to step out of your comfort zone and create what you always wanted to make. Brew your favorite cup of tea or coffee and let kindness nurture your soul.
Perfect as a gift to let a friend or loved one know how much you appreciate them. ❤
#13

Super Hero Coffee Mugs
Perfect gift for all the superhero fans out there.
For all the superhero fans out there. Have a feel of being a part of avenger with these superhero themed ceramic coffee mugs for all the superhero maniac out there.
Makes a great gift for all the DC and Marvel fan.
#14

Color Changing Galaxy Coffee Mugs
Perfect magical coffee mugs.
Stargazing and lattes can go hand in hand. Sip from our unique mug while staring at the galaxy, or reading your horoscope with your morning cup of tea.
A cool gift for the star lover, stargazer, astronomer, astrologer, zodiac lover of any star sign, or coffee drinker
Heat changing mugs are microwave safe, but not dishwasher safe. Handwash only. Don't soak.
Explore
#15

Color Changing Walking Dead Zombie Mug
Another color changing mug with walking dead theme for all the fans out there.
The zombie appears magically when hot content is poured in the cup.
Enjoy the coffee with special walking dead feel as if you have come into the world of zombies and walking dead.
Comes with two changing designs.
#16

Lego Building Blocks Coffee Mugs
Perfect for all the lego fans out there. Relive your childhood from the comfort of your own desk during boring phone calls and meetings whilst tinkering with your latest creation. This mug will have you immediately playing until your heart's content, whilst being 100% compatible with all your existing childhood building bricks. This is an interesting mug with exterior building surface. A coffee mug and construction set all in one! Drinking coffee while building something is really a wonderful thing.
#17

Stainless Steel Viking Skull Coffee Mugs
Great coffee mug with awesome design for all the viking fans out there.
This Great craftmanship skull tankard could be a great present for your family and friends who love skulls
Creative 3D Skull Mug with exquisite design and craftsmanship
Care instruction: use the brush to wash cups in and out, not just cleaning with water
Horror 3D skull design and perfect detailed mug can be used for all occasions
#18

Creative Cat Coffee Mug
For all the cat lovers out there. The Heat resistant quality glass makes the cup can bear the high temperature, maximizing durability and resistance to thermal shock. The coffee mug is designed with a creative handle to prevent you from being hurt when the drink is hot. It's easy to clean. Just wash the mug with water, then scrub the glass cup with a soft cloth.
#19

The Future Is Female Cuff + Accessories
I love these products because they are ethically sourced in the US, from a female founded company, they give back with every purchase, and the products are beautiful.
#20

Hats Off To Being A Woman! Hat
Treat your squad with (woman)kindness and show off what you all stand for: girl power!
#21

Ceo T-Shirt
Be the CEO your parents always wanted you to marry. Inspired by the female leadership gap, this shirt is the perfect gift for the boss babes in your life.
#22

Don'T Feel Stuck! By Jaclyn Johnston
Encourage your freedom-loving friends through empowerment writing. You are not stuck when it comes to making important decisions for your life and your future. You just feel stuck, there is a huge difference. This book helps you to identify and understand why you are feeling anxiety and worry about the meaning of your life.
In addition, it teaches you how to make empowering decisions followed by taking inspired actions through the powerful tool of mindset journaling. Writing into reality, literally. It's a guide to help you discover, uncover, release the shoulds for your present and your future, and be able to tune into your soul's calling with ease while at the same time learning how to manifest all your dreams with rapid speed. Practice makes for progression and progression brings your manifestations!
#23

I'M The Hero Of This Story Necklace
Inscribed with "I'm The Hero of this Journey," this necklace will inspire the wearer to always believe in herself and to celebrate her accomplishments. Available in gold or silver finish.
#24

Fearless Necklace
Engraved with FEARLESS and featuring a blue stone accent, this lovely necklace will help her always follow her dreams! You can select from either silver or gold.
#25

Shine Bright Necklace
This charm measure approx 1 inch in length and is accented with a Swarovski crystal. Available on a sterling silver or 14th gold filled chain. Plated charm.
#26

She Flies Pendant Necklace
Latin for 'She flies with her own wings.' Bestow this keepsake unto a woman who has demonstrated strength in times of weakness, courage in times of fear, and perseverance in times of hardship. This charm is for she who has the will to fly with her own wings.
#27

Ekc Deodorant
Did you know over 60% of the ingredients found in mainstream deodorants and antiperspirants are so toxic they are banned throughout the world, just not here in the US?
EKC Deodorant is different – first, it's organic, all natural and made in the USA! No Toxic Chemicals. No Aluminum. No Kidding. The deodorant contains no toxic chemicals, aluminum, glycols, parabens, sulfates, or zinc salts.
Second, they donate a tube to women and girls in need for every tube sold. EKC is all about giving back and they donate to numerous organizations such as Sherry Strong and Girls on the Run.
Third, you can have EKC delivered on a monthly basis, so you never run out- or just purchase separately to try it out and see the difference for yourself.
#28

Anthrodesk Sit To Stand Electric Adjustable Height Standing Desk
A sit-stand/standing desk can reduce back and neck pain
Reduce risk of cancer, diabetes, and cardiovascular disease (supported by several scientific studies including the American Cancer Society)
Increase your energy and productivity
Improve circulation and oxygen flow
Increase neurotransmitter levels
Burn more calories
#29

Wobble Chair Ergonomic Active Sitting Stool
The Wobble Chair is ideal for use with your standing desk. It is a perfect way to stay active even when you sit with your sit to stand desk.
Engages your core muscles and stimulates metabolism. Wobble your way to better health today!
#30

Wireless Vertical Mouse, Ergonomic Design
Natural, ergonomic design ensures you will be working in a much healthier position for your body. It avoids long term damage from constant twisting of your arm tendons and wrist. Scientifically proven, studies show that a vertical mouse causes less strain on your wrist and arm.
#31

Rally Active Recovery Wear
Rally Active donates 10% of proceeds to White Ribbon, a campaign working to end violence against women and girls. Every Rally Active item is marked with a discreet white tag to identify you as a supporter of the cause- so spot it on someone at the gym and feel free to spark up a lively conversation around toxic masculinity. Plus their clothes are made made with bioceramic yarns that heal sore muscles through activated bamboo charcoal- because recovery is exactly what we all need right now.
#32

Girl Power/Inspirational Quote Vinyl Stickers
Stickers are an amazing way to make subtle, but powerful, statements. Pop one onto your laptop or water bottle and let it spread your message for you all the time even when you're busy doing other things – like working on your laptop in a cafe or taking a workout class with water bottle in hand! It's a really cute and easy way to make a statement about who you are in the world!
#33

Tempus Planner – Best Productivity Planner & Goal Journal
Tempus planner has been specifically designed for creatives, entrepreneurs, bloggers, and other ambitious goal-orientated people to help them accomplish more in their day to day lives. Our daily undated journal is different than most on the market today due to its unique Daily Task Lists and approach to Gratitude. We want to encourage people to write down all their goals, and MAKE THEM HAPPEN. Simply with the power of paper, because we believe words and paper can transform lives… even careers.
---
The recommendations of products and books within this article where sourced from industry experts. Their names and websites are listed below.